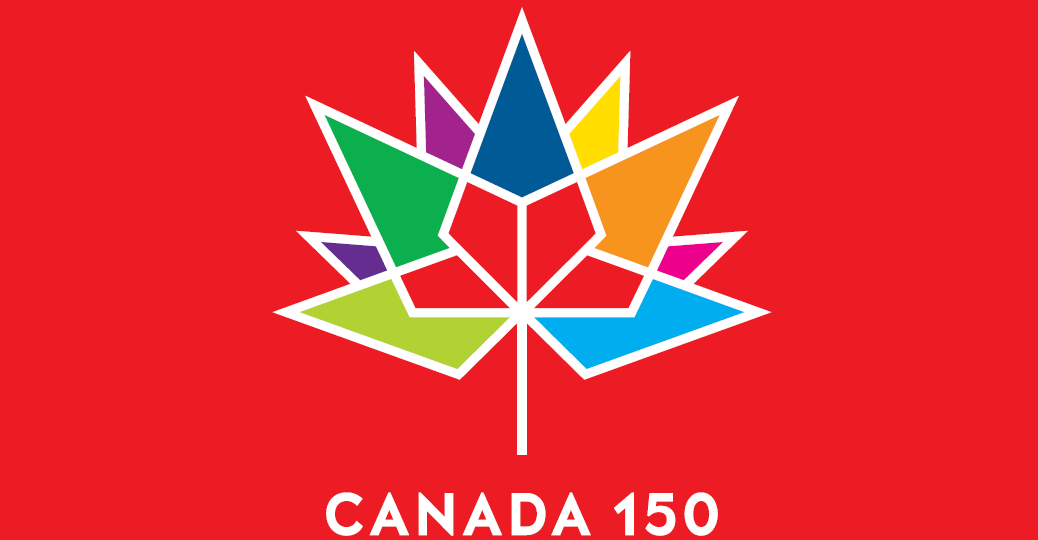 Happy Canada Day! On July 1, 1867, the nation was born with the introduction of the Constitutional Act joined by the three provinces into one country: Nova Scotia, New Brunswick and the Canadian province (which eventually turned into Ontario and Quebec. However, what most don't know (especially for non-residents) is that the country didn't become completely independent until 1982! Fast-forward to present time – the year is 2017 and today is officially the 150th Anniversary of their independence. How do you plan on celebrating? Here's a list of what's going on in the bigger provinces and be sure to check out your local listings for more planned events!
West Coast: Vancouver, British Columbia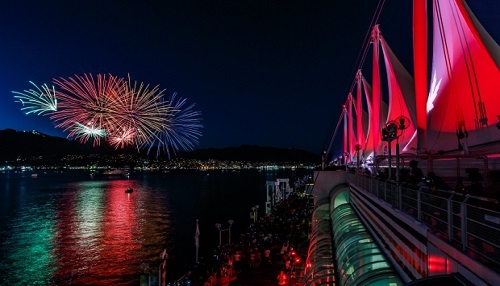 10:00 a.m. – Surrey Canada – Celebrate Canada's 150th with lots of family-friendly events and attractions. Highlights include world-class performances including headliners Hedley, Chilliwack and Magic!; amusement rides, a Canada 150 Zone, a zip line, activities for all ages from a Strawberry Tea for seniors to Science World demonstrations for the kids, and a spectacular fireworks finale. • Bill Reid Millennium Amphitheatre, 17728 64th Ave.
11:00 a.m. – Canada Day at Burnaby Village Museum – The Burnaby Village Museum offers visitors the backdrop of its 1920s village streets, multi-cultural family entertainment including musicians, entertainers, displays and demonstrations. • Burnaby Village Museum, 6501 Deer Lake Ave. • July 1, 11 a.m.-4:30 p.m. • Free admission, carousel rides $2.65, 604-297-4565.
5:00 p.m. – City of Burnaby – The City of Burnaby hosts a free Canada Day concert and fireworks display to mark Canada's 150th birthday. Highlights include top-notch entertainment including headliner Steven Page (Barenaked Ladies), activities, exhibitors and spectacular fireworks for the grand finale. • Swangard Stadium, Burnaby
Granville Island – Granville Island goes all out to present a day full of entertainment, music, spectacle, food, fun activities, street entertainment, and more. It's all about celebrating Canada's special birthday, with many of the events free of charge.
July 2 @ 5:00 p.m. – Canada 150 Parade (Downtown Vancouver) – Floats, marching bands and more! Presented as part of Canada Place's Canada 150 celebrations, the parade is part of a two-day series of events celebrating Canada's 150th. The parade starts at Broughton and West Georgia, travels east along West Georgia, turns north on Burrard, and ends at Burrard and West Pender.
Canada Place – July 2 – This year's celebration will be a two-day event to commemorate 150 years of Confederation. Highlights include five performance stages featuring Sam Roberts, Fefe Dobson, Emerson Drive, Hey Ocean!, Dragonette, Madeline Merlo and The Matinee; plus a multi-community fireworks show (July 1), a pancake breakfast (July 2) and the Canada 150 parade through downtown Vancouver.
Central: Ottawa, Ontario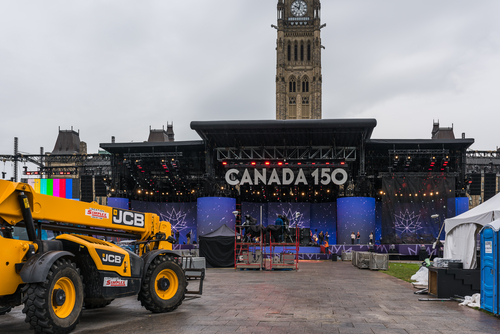 Celebrations on the Parliament Hill begin at 9 a.m. with musical performances, featuring a carillon concert from the bells of the Peace Tower. The lineup for the rest of the day includes:
11:30 a.m. – The museum in Gatineau, Que., will be open to the public all day with live entertainment and family activities. The new permanent Canadian History Hall will officially open for the first time to mark Canada Day. Live music gets underway at 11 a.m., featuring evening headline sets by The Souljazz Orchestra and The Lost Fingers.
11:40 a.m. – An opening celebration featuring Prime Minister Justin Trudeau, Governor General David Johnston, the Prince of Wales and the Duchess of Cornwall, performances by Buffy Sainte-Marie, Bono and The Edge of U2, Walk off the Earth, Patrick Watson and more, and an air show.
1:30 p.m. – A citizenship ceremony.
8:30 p.m. – The Canada Day Evening Show featuring performances by Gordon Lightfoot, Serena Ryder, Dean Brody, Alessia Cara, Kinnie Starr, and more!
11 p.m. (EST) – The day-long celebrations will build to a spectacular climax with a 20-minute "pyromusical" fireworks show (at Parliament Hill) that promises to be the largest ever presented in the National Capital Region for Canada Day.
East Coast: Halifax, Nova Scotia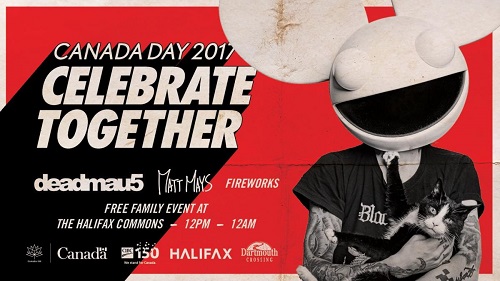 8:00 a.m. – Pancake breakfast at Alderney Landing (in Dartmouth near Halifax).
5:00 p.m. – 12:00 a.m. – Concert featuring DeadMau5, Matt Mays and more at the Main Event Concert, Halifax Common SET TIMES: Deadmau5 10:10 p.m., Matt Mays 8:15 p.m., Reeny Smith 7:30 p.m., Stan Rogers Tribute 6:50 p.m., Izabelle 6:15 p.m., Ashelin 5:20 p.m. CIBC re-affirmation ceremony 5 p.m.)
10:00 p.m. – Join us at the Halifax Common for the "pyro-musical" fireworks show. Best viewing point will be at the Halifax Common and there will be special viewing area at the Emera Oval where you can set up chairs and blankets on the green space.)
11 a.m. – 5 p.m. – FUSE Festival at Halifax Common. Over 150 artists will perform in the new dance festival celebrating Canada's diversity through dance.
For a full list of events in Vancouver, BC, please visit the LG 104.3 FM
For events near Ottawa, ON please visit the CBC News website for a detailed layout of events.
For event's in Halifax, NS, please visit the Toronto Metro website for a complete list things to do!
Happy 150th Anniversary Canada!