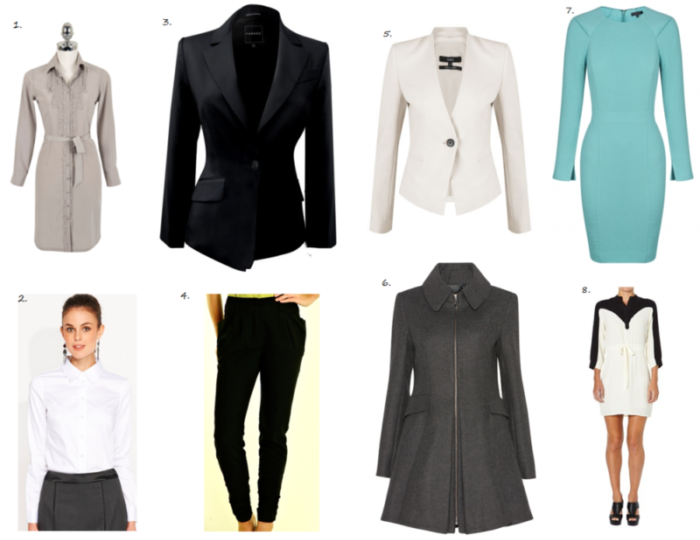 The beginning of a new job calendar always marks an urge to remix your wardrobe with office trendy styles. There is a belief that office-ready pieces are the most investment worthy, and empower you from your desk to the boardroom. The passion of a business look has brought a whole new level of trend outfits for work. Fortunately, the impeccably tailored, simple dress, classic suit were and remain the basics of office wear in any woman's wardrobe.
It is time to get down to what is trending in work attire that is bold and professional. Some people might think that dressing well for work is a consistently very difficult task, though, if you plan everything right, you will have no problem finding and combining the trending office wear in 2016.
Go for smart-casual blazers, slim cut suits, wide or slim trousers and Oxford shirts among others. Stop thinking about your office duties for a moment and put an innovative fashion mind to work. Whether you work in a multinational business, bank, or any environment that requires customer interaction, there are trends that are creeping faster into the daily lives of the corporate class. If you are dynamic in nature, you should opt for brighter colors for the office. Choose a skirt length, which is slightly below your knees. Here are a few career fashion trends forecast in 2016.
Statement-making slacks
Get yourself at least one Wang box shape T-shirt, fashioned with Veneta Felted Cashmere Coat, plus flat bar and chain tassel cross body bag. Look for a black suit jacket teamed with a simple tee, high-waist, pleated wide trouser.
Sexy Outfits
Get yourself a tailored V-neck frock in black color, teamed with glossy flat booties and white shirt. Never miss a retro inspired pale pink office outfit that consists of a blazer, boater hat, high-waited, simple tee skirt, and fuchsia pointed-toe heels.
Breezy Office Wear
Look for a clientele tweed checkered suit jacket and high-waited black pencil skirt, or a plaid, cropped tank and high-waisted, relaxed black skirt. You can also keep it real by wearing a black outfit that has a long-sleeve blouse tucked in high-waist knee-length pencil skirt.
The Bejeweled Topper Trend
You can wear the double-breasted jacket cinched at the waist with a beautiful belt, styled with white turtleneck and straight skirt. Get a good night sweater teamed with a pleated ankle-length pant and matching shirt.
Unique Office Style Trends
Another beautiful looking office style trend consists of a gray pullover, glossy booties and plain knee-length skirt. Get a sophisticated black, collarless coatdress. The fashion features a bright tee styled with patented leather pointed toe-heels and slim fit pants. Of course, if you want something cool and vibrant, then get yourself a glossy pantsuit that is styled with clutch bag and glossy red heels.
Major Pattern Play
Get printed silk-crepe blouse paired with a knit pencil skirt, faux fur roll-top clutch and a black leather civic sandal. And if you love the sophistication and uniqueness, you can opt for a shortened blazer and high-waisted A-line skirt.
Remember, an effective office wear should speak of your abilities, credibility and position within the ranks of the organization. If you want to look trendy, it is imperative that you do the research to know what to wear to work in 2016. This will show maturity and professionalism that your position needs.
Find more at Cartageous.com