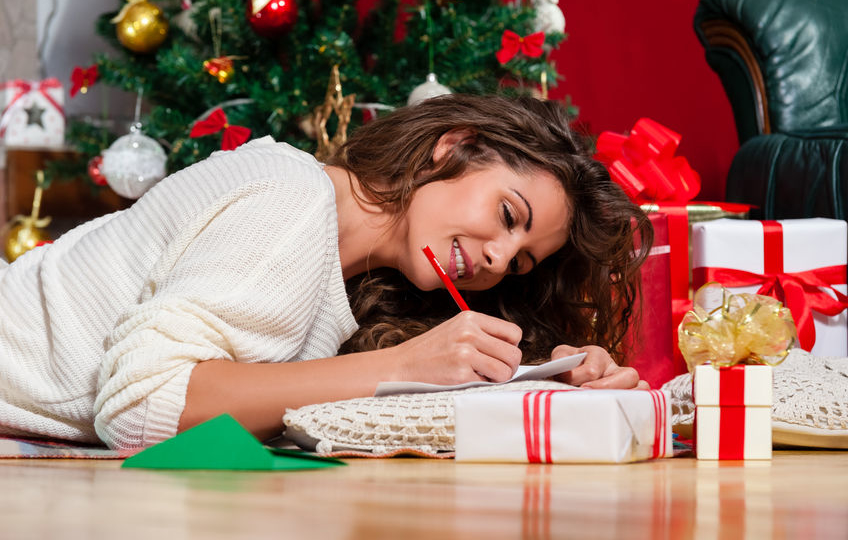 Christmas is just around the corner and it's time to start making those lists–both for yourself and for those closest to you. Making a list to give to others helps you get the things that you really want and will really use. Such lists also help reduce the stress your kids, spouse and friends feel when searching for just that right item to give you for the holidays.
Preparing lists of the gifts you'd like to buy for those on your own gift list helps make holiday shopping more manageable. With a well-conceived list, you might even be able to do the bulk of your holiday shopping online. Just a few of the other benefits of making a Christmas list include:
Keeping costs in line. By having a list, you're not nearly as subject to impulse buying as when you simply drive to the mall without a plan. By knowing what you're seeking, you can also shop for the best price for the item.
Avoid risk of duplicating gifts. When you're tired of shopping, it's tempting to just get the same sweater or bath set in different colors for every person on your list so that you can quit shopping. A good gift list helps keep you from getting in that situation.
Better chance of getting something a person will like and use. When you sit down and peacefully think about what the person on your gift list would want, you're likely to come up with much better ideas than when you're frantically shopping at the mall.
Now that you understand the benefits of a good gift list, we have some suggestion of what to put on it this season.
Hot gifts for women this Christmas
1. Food gifts. Chocolate and Champagne never go out of style. The plethora of new online vendors make it easy to customize a food basket to match her favorite regional cuisine or type of food.
2. A new winter coat. After the cold, cold winter of 2015, who wouldn't appreciate a new, snugglely warm coat? Can't afford a coat? Opt for a pair of insulated socks instead.
3. Scented candles. I'm not sure I know a woman who doesn't love a scented candle. It's also something that most of us won't splurge on ourselves. You can't go wrong with lemon, bayberry or lavender.
Top gifts of men this holiday season
1. Gadgets. It's a rare man that doesn't get excited by a cool gadget, whether it's an electronic measuring device, stud finder, a beer kube (combines beverages and music in one unit) or the insanely-popular palm-size droid that you can control with your smartphone.
 2. A good bottle of liquor. A bottle of top-shelf vodka, single barrel bourbon or single malt scotch will always be appreciated by the drinkers on your list.
3. Event tickets. Make memories this holiday season by taking him to a game, a concert or other happening he wouldn't otherwise be able to attend.
Shopping for holiday gifts shouldn't be stressful. Start early with a good gift list and re-discover the joy of giving this Christmas season.