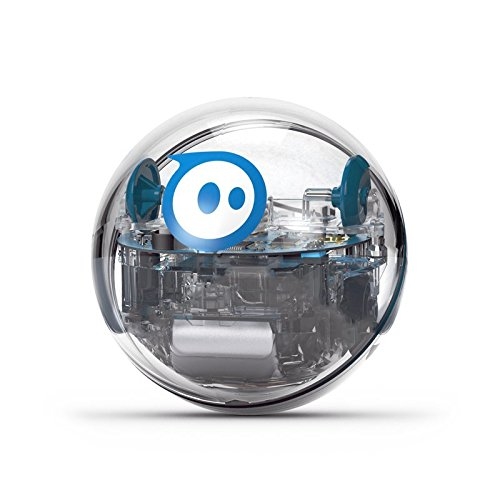 Children's toys Today may seem beyond advanced, but our Children are entering a world where computer and software knowledge is a must for their futures.  Below are the Top 10 Tech Toys for Kids this year. Who knows, maybe they'll end up teaching you a think or two about technology!
This robotic ball has programmable sensors and LED lights using the Lightning Lab app! Easy for beginners, yet advanced enough for the intermediate coder. Compatible with iOS and Android. The Sphero SPRK + teaches kids to learn programming and inspires creativity!
Cubelets is a robot construction system to help kids understand how robots really work! This kit has 15 different Cueblets, with multiples of the most popular ones. Cubelets lets you build thousands of different robots and designs, and automatically re-routes power and data each time you change up the design.
Just like a real tablet, the VTECH InnoTab Max Kids Tablet allows kids to send pictures, texts, voice messages, and drawings between other InnoTab Max Tablets and smartphones. Watch videos, take pictures and listen to MP3s. It comes with headphones and a carrying case, so your kid will feel just like an adult while they learn, using the educational android apps that can be added (18 apps included)!
This waterproof camera can be mounted to bikes and skateboards, and can take photos underwater up to 6 feet! Durable enough for the the most active child, they can take pictures, videos, and add fun frames and filters.  It comes with 3 mounts, a waterproof case and a wrist strap (32GB microSD card sold separately).
Expose your child to the world of virtual reality! Using the View-Master app, download Experience packs (sold separately) and have them step into another world where they'll feel like they're really there!

Teach your child how to build a computer, using 150 hrs of coding tutorials. Once put together, you can bring your computer to life and code it to create apps, music, and classic games like Pong and Snake! Prepare your child for the future with this genius tech toy!

The Osmo starter kit adds hands-on play to the iPad. It allows your child to control games and create drawings in front of the iPad, while the iPad senses what they're doing and incorporates it onto the screen, to create fun games and tutorials!
Barbie is making her way into the digital world with the Barbie Girls MP3 Player. She comes with a change of clothes, belt clip, docking station and storage case. Not only does she play music, but she also connects to the computer where she gives access to the world of BarbieGirls.com, unlocking new features and includes access to Club Beauty! 
Not only is the VTech Kidizoom Smartwatch DX a fancy watch so your kids can tell time, it's also a device that allows them to take pictures, create videos, and play games from the Learning Lodge! They'll also learn basic features like how to use a calendar, alarm, timer, stopwatch and calculator. Games are played using a motion sensor and through the touch screen; Plus, it's splash proof for everyday wear.

The Code-a-pillar is for the young coder just starting out! Each segment tells the Code-a-pillar to create a specific movement, so children can mix and match the segments to make him move in a specific direction with the aim of hitting targets that they can place around the room. The Code-a-pillar sparks problem solving and puts your kid on the path to creating thinking!
Shop for more Tech Toys at Cartageous.com!
Also, check out this article on the Top 10 Holiday Toys for Children!