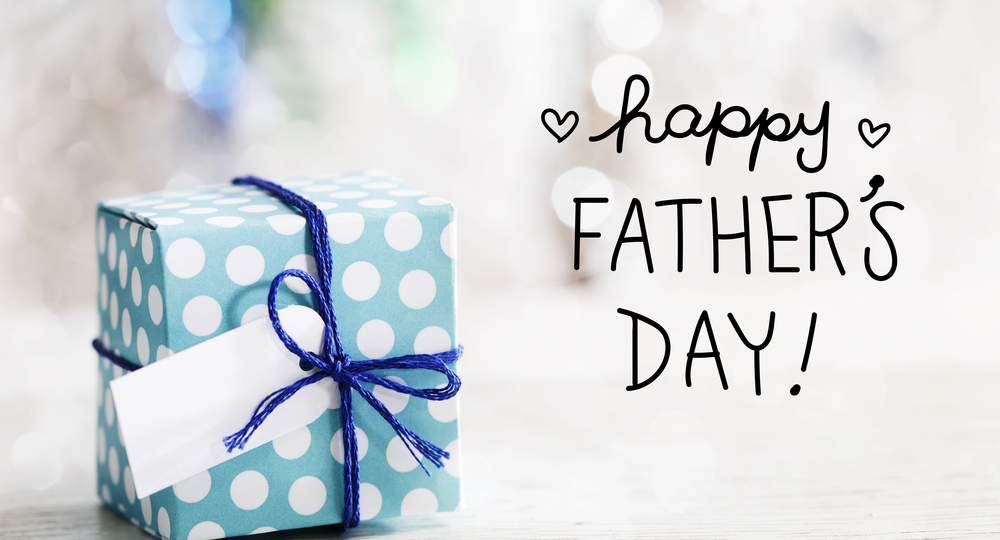 Father's Day is almost here! Do you know what you're going to get dad for his special day? Don't be a last-minute gift giver and buy him a bottle of cheap cologne or a new tie, go all out for dad this year! He's been there for the good times and the bad,  and showered you with gifts for every birthday and holiday, even when you didn't deserve it. So, this year pull out all the stops — Make Father's Day a special one and prove once and for all that you're still the best kid.
Upgrade your dad's watch collection with the Samsung's latest smartwatch, the Gear S3. This watch is unlike any other on the market now and it can be confused with a traditional watch, depending on what digital face you choose. That's right! You can change the look of your watch by downloading different faces that will compliment your latest outfit. This watch has a stainless-steel casing (for those who see a little more action), features a 16 million colors display and is also waterproof and dust proof! Samsung Gear S3 also sports the latest tech with integrated Bluetooth, Wi-fi and Samsung Pay — which means if you forget your wallet at home, it has you covered. If that isn't enough, it also comes with one year of free Under Armour Apps for those daddy-o's who need to look good while staying in shape.
Let's face it, there's nothing more frustrating than having to adjust your settings using 3 to 4 remotes at once when you're looking to watch sports, movies or play a video game, right? Those days are long gone with Logitech's latest remote, the Harmony Elite. This single remote can be programmed to control up to 15 devices at once and can also manage your smart-home devices. That, combined with being able to link up to Amazon Alexa, means you can use the app to control the thermostat of your home and dim the lights before a movie. This is by far one of the best tech gadgets on the list.
Pico Brew makes brewing beer as easy as making coffee in the morning. This certainly takes things to a whole new level for those fathers wanting to do a little home-brew. There are hundreds of different craft beers to pick from including IPA's, Stouts, Lagers and many more. Best part about it, you can mix and adjust the various recipes to the taste you prefer.
Listen to those old tunes in style with the Tivoli's New Model One Digital radio. Built with AM/FM radio, it borrows some of the old features and style that you remember growing up, but this is far more advanced. It has a built-in Bluetooth connection and boasts a 3-inch full-range speaker to deliver those thumping jams. It also comes available in different colors and options.
"Have you seen my keys?" Is a term often used by the forgetful dad. It could be possible that your children decided to play hide-and-seek with daddy before he went to work. Nevertheless, this is the perfect gift for you and your family. Whether you attach it to your keys, luggage or any other items that could be easily lost, you can connect the Tile via Bluetooth and Voila! When you don't remember where you left your keys, you can access the app on any smartphone and activate an alarm that will help you locate your missing items.
Samsung Gear VR is easily one of the best-looking, if not the most popular, Virtual Reality headsets available to purchase. This version comes with a wireless controller that sports a circular touch-pad, volume buttons and a rear-mounted trigger button for those dads who have the shooter's itch.  Welcome to the 21st century of gaming. *Requires a Galaxy S6 Samsung Smartphone or higher*
Tired of trying to call dad and come to find out his phone battery died? How dare he! Never fear, the Jackery Giant Portable External Charger does wonders and packs quite a punch. This battery pack boasts a 12,000 mAh battery with two USB ports, and with a full charge, it can recharge your smartphone devices up to 3.5 times! It's also compatible with tablets as well. This is the perfect gift for all of dad's planned camping trips, boat excursions and golf course antics.
You may regret getting him this, but it is a worthy gift for the Falsetto Father. The VicTsing Shower Speaker has tons of awesome features that will get his mornings started off right! Not only can this be used in showers, but outdoors too.  Its silicone case and interface design give it a Shock-proof and Dust-proof protection. It also has a built-in MIC via Bluetooth for hands-free function so he'll  never miss those important calls while in the shower. The rechargeable battery supports up to 6 hours of playing time, so there will be plenty of good tunes to go around.
There goes a saying "Silence is Golden." However, Bose somehow always finds a way to take it to the next level. If you know dad, you know there are times when he simply wants to relax and listen to his favorite tunes in peace. Maybe he works in a busy work environment and needs to concentrate on his work. Bose QuietComfort 35 boasts some of the best noise cancellation technology on the market. Its built-in battery can support up to a whopping 20 hours of battery life (per charge) in wireless mode and up to 40 hours when wired. With easy Bluetooth and NFC pairing, it also has a noise-rejecting dual-microphone system for clear calls, even in windy environments.
If you know dad, you know how much he loves his coffee. For the typical coffee drinker, any drip coffee maker does the trick; however, for a no-fuss coffee machine with excellent taste and long-lasting warmth, this is the one. The large shower head replaces the traditional drip, helping the water spread evenly over the grounds extracting every bit of goodness into one cup. A vacuum-sealed thermal carafe keeps coffee hot and fresh-tasting without the need of a heating element which can often turn coffee bitter over time. Talk about modern ingenuity. Your dad will be bragging about this for weeks!
It's happened to just about everyone… Waiting at the airport baggage claim and after everyone has taken off, your belongings are nowhere to be found. Now what? Lucky for ol' dad, you just bought him the best darn suitcase that would make even James Bond jealous! The Bluesmart One comes built with 3G and GPS to locate your luggage anywhere in the world.  If that wasn't enough, it features a built-in scale in the suitcase's handle that can tell you the weight of your luggage through the mobile app, a lock that can be locked/unlocked remotely and a built-in battery that can charge your smart devices up to six times over! Ideally built for 2-3 day trips, this is the ultimate traveling buddy for frequent flier dads.
If you're looking for something cheap and fast to get dad for Father's Day, look no further. This is the best belt he'll ever own and he will thank you many times over once you buy him the Dante Men's Ratchet Dress Belt. This high-quality belt features 38 unique adjustments. Yes, 38 different placements for the perfect fit. No more fighting with trying to find belt holes and uncomfortable buckles. All he needs to do is slide the belt into the buckle and pull it through. The buckle auto locks with the built-in ratchet system and voila!  It makes getting dressed in the morning a snap.
It's time dad caught up with the times, literally. The Apple 8GB smartwatch will keep him up-to-date with current tech and he'll look cool while doing it. With several built-in apps, he'll be playing with it for hours and the best thing is, he'll have no excuses as to why he missed your call.
Is your dad always working in the yard or barn and wants to listen to his favorite music or watch a video? Here's the perfect tool to add to his arsenal. The TP-Link AC1750 Wi-Fi Extender is worth its weight in gold. This powerful dual-band extender can help push internet coverage through every corner of your house and yard. Dad will have no complaints about connection issues ever again.
Who says kids should have all the fun? This year, how about keeping it lighthearted with poppa and buy him a PlayStation 4 Pro. This is the latest model from Sony and boasts some of the best games and graphics on any gaming console. Not only will he be set up to play the best games, but he can test his skills against opponents online with a 12-month Membership for PlayStation Plus that's included. The PS4 Pro also has native 4K support, HDR (High-Def Resolution) and the option to play certain games with Sony's new PlayStation VR headset. Sweet!
Does your dad have an endless supply of pens that he cannot seem to track down? Maybe he let somebody borrow a pen in the office and can't seem to remember who he lent it to. Those darn pen snatchers! Tell dad you are here to save the day, because the Cross Peerless TrackR Pen is the last one he'll ever need to own. Not only is this a sleek and stylish pen, it has one feature that no other pens have, Bluetooth. Yes, your pen can be tracked through a mobile app that will show its distance or can emit a sound once you get closer. You might end up spending a pretty penny for this, but for all the money he'd spend trying to replace the old ones, your dad will forever be in your debt — and he'll be the talk of the office if he ever needs to use his secret spying skills.
For more Father's Day gifts or need inspiration, head over to Cartageous.com!