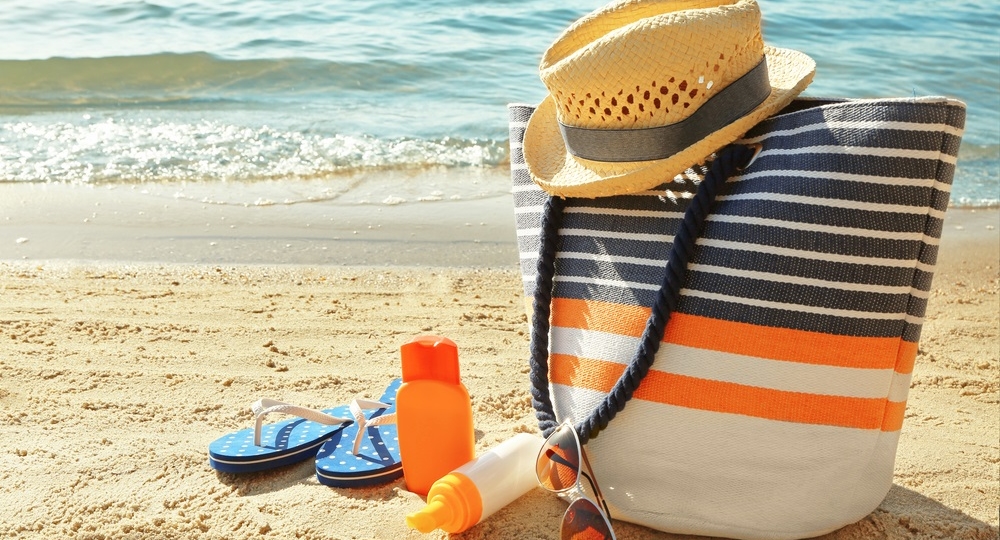 It's that time of the year, the sun is out, you've got your beach bod in tip-top shape and you're ready to make a statement. You found the perfect spot at the beach, your umbrella is set up and right as you lay down the towel, it hits you.. You didn't come as prepared as you thought. Don't sweat it — it happens to us all. However, once you read this list of must-have items to the beach, you'll be thanking us!
It's not a beach party without music! This wireless Bluetooth speaker by Monster is sure to roar up a reaction. Not only does it the sound amazing, but it's li-ion battery is built to last for 4 hours and is completely waterproof. It also has a built-in noise cancellation so you can accept and enjoy hands-free calls in any setting — even in the water!
Let's face it. Some of us weren't lucky enough to own a waterproof phone and there's nothing worse than discovering that your phone has water damage or better yet, sand where it shouldn't be. This is the perfect for those who live an active beach lifestyle. Just put on sunscreen and need to text? No problem! The ultra-thin plastic is tough enough to keep your phone safe from sand, water and sunscreen! We'll let you in on a little secret- with this case, you can take underwater photos!
This is pretty much a no-brainer — if you plan to have fun in the sun, you need to protect your skin from harmful UV rays. If you want a little color and are health conscious, 'Coola' has an organic sunscreen option for you. This SPF 30 contains natural ingredients like aloe, cucumber, algae strawberry extracts and anti-inflammatory rich omega-3 and 6 that will leave your skin feeling smooth, non-oily and UV protected.

Most people wouldn't think about this, but what's the one place you aren't getting protection when you're having fun in the sun? Your head! Alterna Bamboo is a lightweight texturing spray for your hair that's specifically formulated with UV filters to help combat damaging effects of the sun, chlorine pool water and saltwater. Not only does it offer you protection from those harmful rays, it will keep that frizzy beach hair at bay!
Do you ever find yourself parched at the beach, but when you reach for your water bottle, it's hotter than shower water? Here's your solution. MIRA is a double-walled vacuum sealed water bottle that is very sleek and portable. There is no condensation sweat, and best of all, it can keep your drink cold for up to 24 hours! This is surely one of those bottles that's a must have for everyone going the beach.
Alternative For Men —  Ray-Ban Sunglasses Wayfarer *Unisex* – Polarized
When you're in a rush, it's easy to forget the most essential things, such as sunglasses. Even if you're just going for a couple of hours, it's always a good idea to bring sunglasses to the beach. If not to block the sun, at least you can sneak a peek at the merchandise around you without getting caught.
When you're outside, prolonged exposure to the sun can be bad no matter what. If you're trying to keep those beautiful lips from cracking, you may want to consider bringing some SPF protection lip moisturizer. It does wonders.
Who wears flip-flops to the beach these days? Usually after a few months of good use they end up getting destroyed. However, these CTDream beach sandals not only look cool, but can be used in multiple settings. Its rubber construction stands up to most beach activities — so whether you're walking in the sand or riding a bike down to the pier, these really come in handy.

Ever go to a beach without a towel? Your answer should be no, but if you have, we won't judge you (maybe). This Dock and Bay towel is portable, lightweight and constructed from a cozy microfiber cloth.  This eye-catching towel is sure to grab the attention of anyone crossing your path or help the kids find their way back.
These days, it's always good to bring a book or a smart device to pass the time. Maybe you're researching your next vacation or perhaps you just want to watch a movie and read a book. The Amazon Fire HD tablet is a perfect time killer.

Sometimes it's hard to enjoy a day at the beach without constant distractions. Whether it's people sitting too close, people kicking up sand as they walk by or weirdos that won't leave you alone — you deserve to relax in peace. Most would never think to pitch a tent, (maybe because it takes too long) but the Pacific Breeze tent is impressive. Specially designed for easy set up and take down, it's considered to be one of the lightest (at only 3 pounds) and strongest tents on the market.
Imagine sitting at a beach with a good book, a cold drink and the sound of the ocean waves crashing around you. Sounds amazing, right? This custom embroidered "hello sunshine" is sure to make a statement at the beach. This paper blend natural colored floppy beach hat is sure to keep the sun off your head and neck while you look fashionable and enjoy your day at the beach.