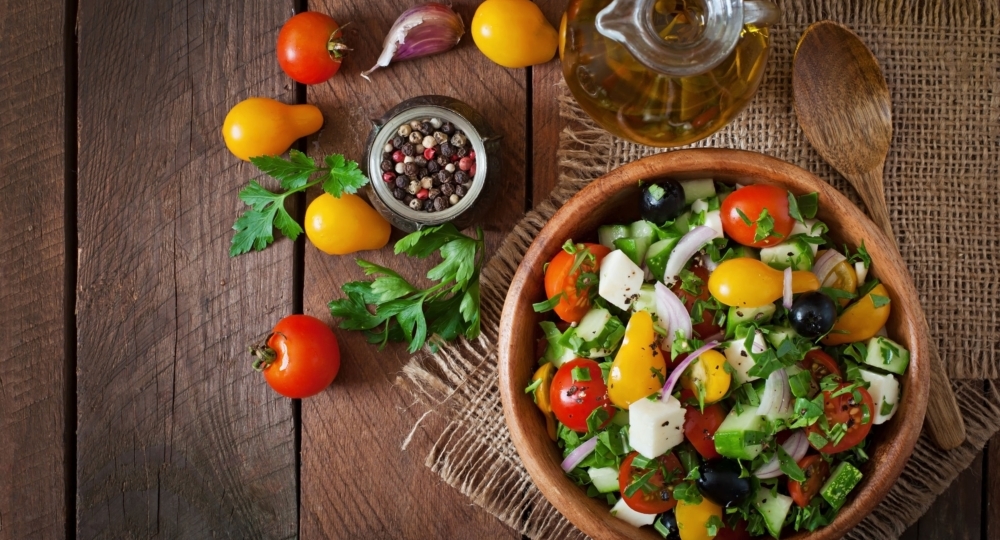 Dig into a cool, crisp, and sumptuous salad for a perfect summer meal. Whether you are into Caprese salads, coleslaw salads, or broccoli/bean/potato/green salads, there is something for everyone this summer! The following are some amazing ideas for your favorite summer recipes dished using fresh summer ingredients:
Refreshing Cucumber Salad
This is an incredibly easy and quick throw-together salad that is super creamy and tangy. It is an amazing way to utilize some of your green and fresh garden veggies totally refreshing! Decrease or increase the amount of mayonnaise and vinegar to your liking.
Ingredients
1/2 teaspoon ground black pepper
1/4 teaspoon salt
1 tablespoon white vinegar
One large tomato, sliced and halved
1/2 small red onion, thinly sliced
2 small cucumbers, thinly sliced
Preparation – 10 m
Ready In – 1 h 10m
Directions – Use a medium bowl to toss together the tomato, red onion and cucumbers. Stir in the pepper, salt, vinegar, and mayonnaise gently until coated. Refrigerate and cover for not less than one hour before serving.
Barbecue Chicken Salad
This salad is often featured on restaurant menus, especially in Summer.
Ingredients
1 fresh tomato, chopped
1 head green leaf lettuce, rinsed and torn
1 head red leaf lettuce, rinsed and torn
2 skinless, boneless chicken breast halves
1 bunch cilantro, chopped
1 (15.25 ounce) can whole kernel corn, drained
1 (15 ounce) can black beans, drained
1 (2.8 ounce) can French fried onions
1/2 cup Ranch dressing
1/2 cup barbecue sauce
Preparation – 15 m
Cooking – 13 m
Ready in – 35 m
Directions
Preheat the grill for some high heat
Oil the grill grate lightly and then place your chicken on the grill. Cook 6.5 minutes per side or until there are no more juices. Remove from the heat, cool and then slice.
Inside a large bowl, mix the black beans, corn, cilantro, tomato, green leaf lettuce, and red leaf lettuce. Top with French fried onions and grilled chicken slices
Inside a small bowl, mix the barbecue sauce and ranch dressing. Serve by the side as dipping sauce. You can also serve as a toss with salad to coat.
Bacon and Potato Salad
Try this yummy creamy potato salad with Dijon mustard and bacon today, and discover its magic.
Ingredients
5 eggs
One cup mayonnaise
Pepper and salt to taste
Two tablespoons chopped fresh parsley
Two tablespoons Dijon mustard
Four slices bacon
Two pounds small potatoes
Three stalks celery, minced
Directions
I. Place the potatoes inside a pot with just enough water to cover. Bring it to boil. Cook for around twenty minutes or until it is tender, drain and cool.
II. Temporarily, place eggs inside a saucepan and then cover with cold water. Boil water and then remove from heat immediately. Cover and allow eggs to stand in hot water for ten to twelve minutes. Remove from hot water and then put inside a bowl with cold water for them to cool.
III. Gently peel the eggs. Place three of them inside a large bowl. Reserve the rest for use later. Use a fork to mash the eggs inside the bowl. Stir the pepper, salt, celery, mayonnaise, and mustard. Set aside.
IV. Cook bacon slices inside the microwave for roughly four minutes, until crisp or fry them in a skillet over some medium-high heat. Crumble two bacon slices into mayonnaise mixture. Reserve the remaining for garnish.
V. Peel and then chop the potatoes. Stir into a bowl until they are evenly coated. Slice the two remaining eggs and then put them right on top of the salad. After this, crumble the remaining bacon over the eggs and afterwards sprinkle parsley over the top.
Try any or all of the above salad recipes this summer! Want to impress guests? Click on the link provided to see the wide range of salad accessories (salad bowl, salad tongs, salad spinner) that we have to offer on Cartageous.com!