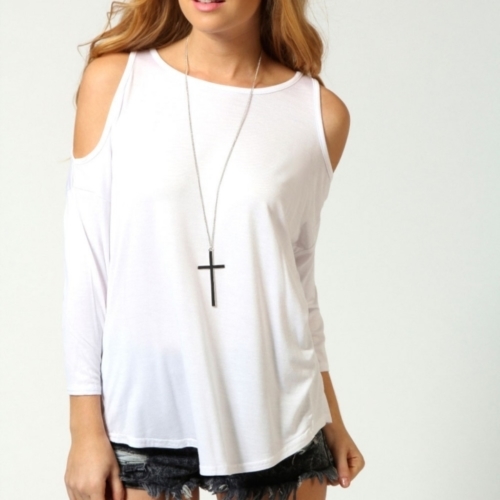 Few fashion pieces are as versatile and stylish as the cut out shoulder top. The color and fabric combos are endless, it is an all seasons fashion, and they look great on all body types. Here are just some of the ways that you can wear a top with cut out shoulders.
If you choose a cut out shoulder top with a form fitting shape, try pairing it with bottom that has volume, such as wide leg pants or a flowing maxi skirt. This combo is classic, chic, and beautifully balanced. This style blouse has an inherent captivating allure to it, but if you want to up the romantic factor and create a sexy ensemble, wear a cut out shoulder top made from fabric that is light, silky, and figure skimming.
Ladies who prefer casual attire can dress shoulder-less tops down without losing any style points. Cut out shoulder tops look great with skinny jeans and your shoe options are endless. Wear jeans, wedge sandals or booties, and your cold shoulder top for a look that's laid back yet pulled together.
Fuller figured women can get in on this fashion trend, too — who doesn't have fabulous looking shoulders? You can find shoulder-less tops in just about every type of fabric and sleeve length, so pick something that makes you feel comfortable. Relaxed fabrics will allow you to rock the trend with everything from your favorite pants to lovely mid-length skirts.
One notable thing about cut out shoulder tops is it's a trend that looks good on women of all ages. If you are a mature lady, take a casual turn with cold shoulder tops by pairing them with nice flats and jeans. For a look that is suitable for the office, try tucking a dose fitting cut out shoulder top into a pencil skirt or tailored slacks.
Though there are cut out shoulder tops with detailed necks, fringes, and scalloped hemlines, stick to those that are designed with clean lines to really show off this style. If you want to add textural interest to your outfit, choose a cold shoulder shirt made of a fabric such as wool or ribbed cotton.
Whether you dress it up or down, remember that the cut out shoulder top makes a big style statement on its own and doesn't need much embellishment. This means that you can wear the shirt on its own without tons of jewelry, scarves, or hats and still look fabulous. Don't be afraid to give this style a try — it may just become a favorite addition to your wardrobe.
Click on the link to see the wide range of cut out shoulder tops Forever 21 has to offer!