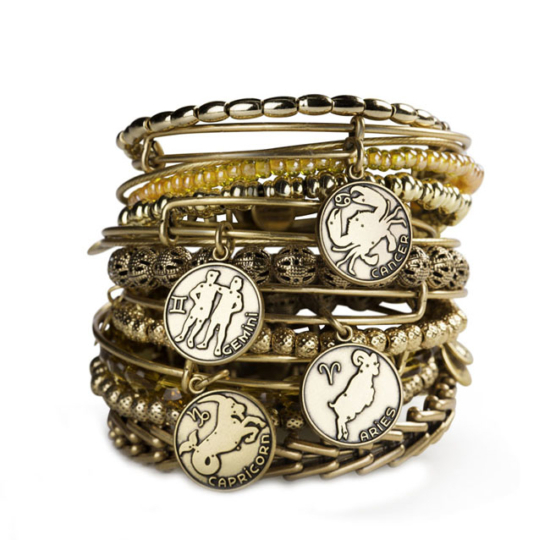 "Made in America with Love" is the inscription found on the flip side of each piece made by Alex and Ani Inc. Ever heard that name? They are a vertically integrated jewelry maker, wholesaler, and retailer based in the humble town of Cranston, Rhode Island.
Started in 2004 by lead designer Carolyn Rafaelian, the brand has gained ever increasing popularity for designing a unique, expandable wire bangle design that can be embellished with beads, crystals, and symbolic charms also made by Alex and Ani. Whether worn alone or stacked together they create a personal and meaningful statement for all who wear them. As one Alex and Ani fan put it, "it's like I wear my heart on my sleeve."
Alex and Ani is positively entrepreneurial…
They create meaningful, eco-conscious jewelry that, in their words, "positively empower and connect humanity". Just by looking at and trying on their bracelets, you get a feel for the emotion behind the brand. If an object can communicate hope for the wellbeing of our planet, our communities, and individual humans this one truly does it. Alex and Ani products are all made in the US and they are becoming very popular worldwide. These bracelets have an international following and their customer service remains that of a small and local enterprise.
You know Pandora…
Alex and Ani is like Pandora but you won't find their products at every other shopping mall, which means that your bracelets can never be replicated.
The collections are just as endless as Pandora's too.
Alex and Ani unveiled Rulers of the Woods collection which harkens back to Celtic roots. The collection, like a horoscope calendar, has bracelets for each "sign", each month symbolized by a different tree.
And for Disney lovers, there's the Disney park collection. It includes a Sleeping Beauty Castle charm and Magic Kingdom Park Cinderella Castle bangles. The newest charms, like the Disney's Animal Kingdom, Epcot and Disney's Hollywood Studios debuted all throughout 2015.
What would be the perfect gift for someone who is looking for something new and fashionable? You can bet that an Alex and Ani bracelet would win them over. Click on the link provided to see the wide range of Alex and Ani bracelets we have to offer!