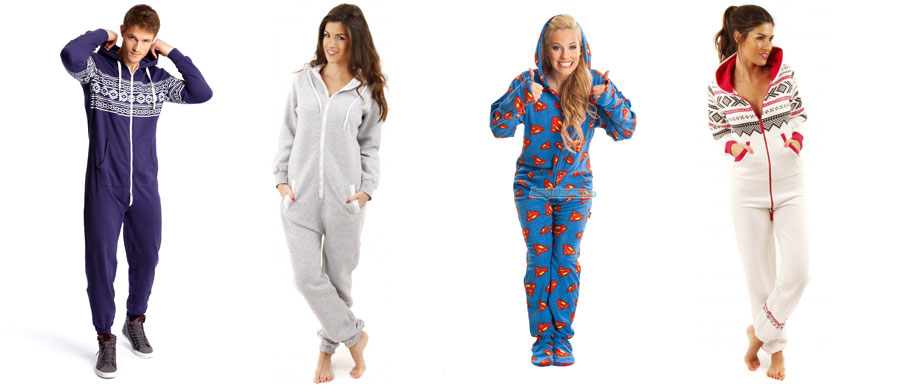 If your home is always cozy and warm in the winter and not too cold during the summer months, you should certainly consider yourself to be one of the lucky few …like finding a one hundred dollar bill on the ground lucky.
For the majority, the adult onesie is not only capable of delivering a delightfully warm and fuzzy feeling to cold bones but is also an absolute necessity for your lounge wear, sleepwear and even underwear needs.
Adult Onesie – Warm Clothing in Winter
The adult onesie is something that should be in every wardrobe because, at one time or another, you've had a feeling that you'd never be warm again. Blame it on your warm-blooded relatives, drafty old houses or thermostats that refuse to cooperate, or you can embrace the fact that an adult onesie offers a particularly awesome appeal that is like no other piece of warm clothing you will ever own.
Things to Consider when Choosing Your Adult Onesie
You already know your fashion preferences by now but if you have never owned an adult onesie, there may be features and benefits you haven't considered. So, grab yourself a nice big mug of chocolaty, marshmallowy hot cocoa as you read this helpful list of adult onesie options for warm clothing that will keep you feeling toasty this winter.
Features of the Adult Onesie
Clearly, adult onesies have some unique features worthy of consideration beyond zippers, snaps and buttons. There are so many options to choose from including long sleeve, short sleeve, long legs and capris. You can opt for an ankle length onesie or enjoy having warm footsies. Tails and ears are also available if you prefer something whimsical and fun.
Size
You will be amazed to know that these adult onesies are available in sizes ranging extra small to double extra large. Some onesie brands promise to be unisex in sizing, while other warm clothing choices will designate male and female choices. Among the sizes available, you can also find one-size-fits-all when choosing an adult onesie for winter this year.
Color and Theme
As with any fashionable warm clothing choice, you have color and theme options to consider. Among these, you can choose from numerous designs and themes including hooded, fancy, thermal or furry options. If you can dream of a theme, such as football or unicorns, you can be sure that it exists on a winter onesie somewhere.
Beat the Cold with Trendy Winter Wear
When you think of warm clothing such as the adult onesie, you automatically think of the winter season and all of its chill bringing buddies: cold winds, sleet, ice and snow. But how many times during the spring, summer and fall months do you find yourself freezing because someone is determined to keep the air conditioner on maximum? Choose the one that best suits your taste, style and individual needs.
If you're looking to purchase your own adult onesie please click on the link provided! Browse through and see the wide range of onesies they have to offer!