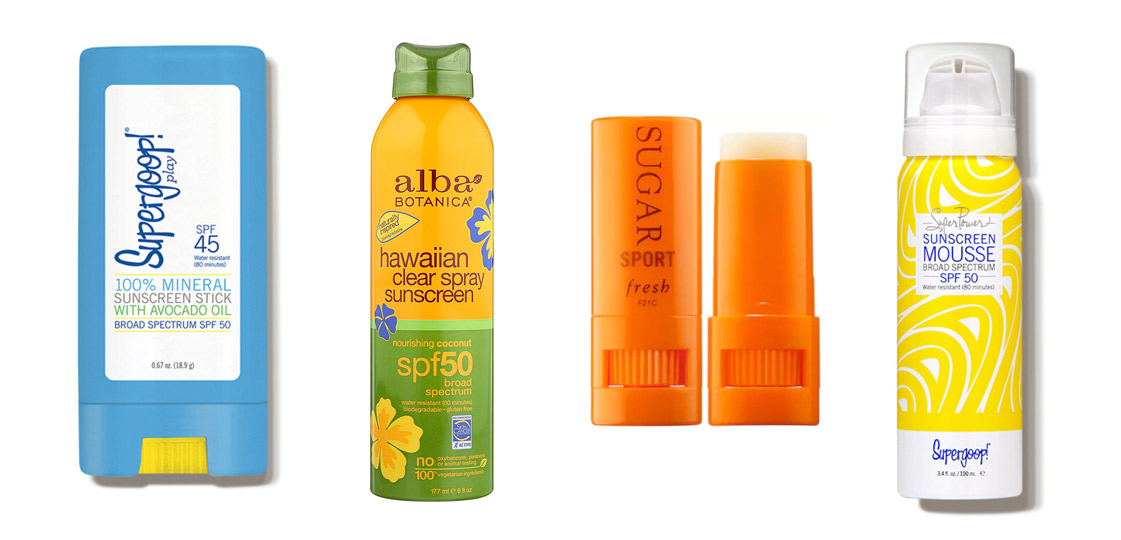 Disclosure – The below contains affiliate links, which means we may receive a commission if you click on a link. We hope you like our picks!
You know those women who have gorgeous, glowy skin and their superpower seems to be defying age? Sure, they may invest in regular facials, but their main beauty secret isn't really much of a secret, it's sunscreen! Yep, sunscreen has many benefits other than the most important one—protecting you from harmful UVB and UVA rays, thus reducing your risk of developing life-threatening skin cancer.
Sunscreen can also keep fine lines and wrinkles at bay, and even promote smoother skin. To get the most out of sunscreen though, you shouldn't just slab it on in the summer when you're headed to the beach. Add sunscreen to your everyday morning beauty routine and bask in the glowy rewards. Keep reading to view our very best sunscreens for the face, body and lips.
BEST SUNSCREEN FOR BODY

1. Supergoop Super Power Sunscreen Mousse SPF 50 • $19 This cucumber and citrus scented sunscreen mousse will keep your skin protected and moisturized thanks to ingredients like olive and jojoba oils and shea butter.
2. Kiehl's Since 1851 Activated Sun Protector Water-Light Lotion for Face & Body Broad Spectrum SPF 50 • $29 This cooling sunscreen won't weigh you down or leave a chalky residue. It's great for the face too!
3. Alba Botanica Hawaiian Coconut Spray Sunscreen SPF 50 • $8.95 Coconut is the new smell of spring and summer thanks to this powerful and easy to use spray sunscreen.
4. Banana Boat Sport Performance Broad Spectrum Sunscreen Spray SPF 100 • $8.94 If you're active on the beach or out on the water, you'll love this water-resistant spray from Banana Boat. Don't forget to reapply!
BEST SUNSCREEN FOR FACE

1. Supergoop 100 Mineral Sunscreen Stick SPF 50 • $24 This water-resistant formula is made with zinc oxide to protect your skin and avocado oil to moisturize and protect against free radicals. Use the stick to easily cover the tops of your ears and bridge of your nose!
2. Aveeno Protect + Hydrate Sunscreen With Broad Spectrum Sweat Resistant SPF 50 • $8.59 Those with sensitive skin already know and love the Aveeno brand. This oil-free and non-comedogenic face formula won't disappoint.
3. Hampton Sun Age-Defying Mineral Crème Sunscreen SPF 50 • $52 This sunscreen is made with natural anti-inflammatory, de-puffing and soothing chamomile, moisturizing Argan Oil, firming botanical extracts and brightening Vitamin C.
4. Facial Lotion SPF 30 by Alba Botanica • $11.49 Nourish your skin with this sunblock loaded with antioxidant-rich and moisturizing green tea, grape seed, Vitamin E, Aloe Vera and Chamomile. Bonus: this size is carry-on friendly.
BEST SUNSCREEN FOR LIPS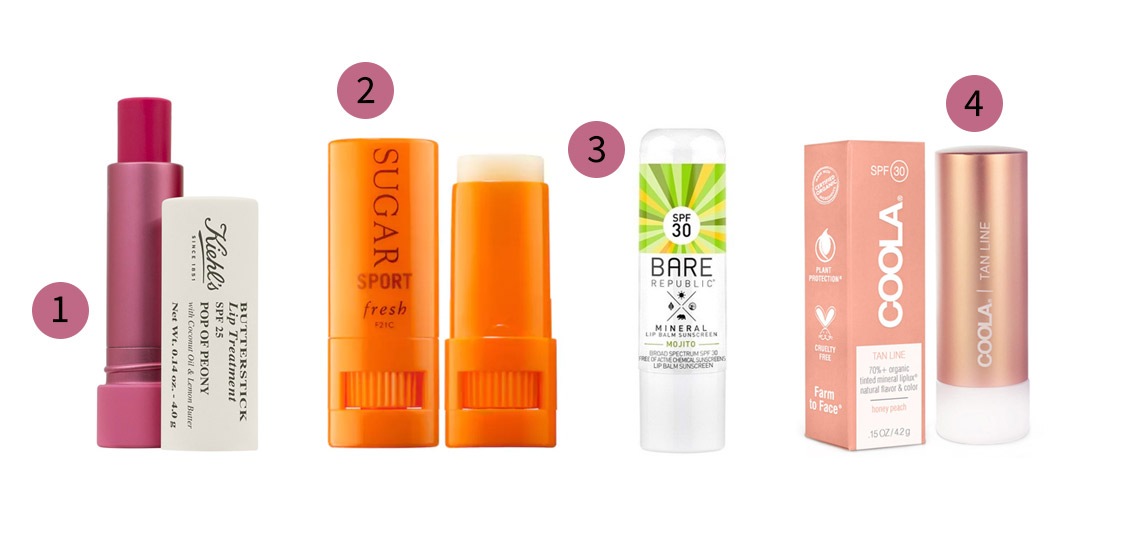 1. Kiehl's Since 1851 Butterstick Lip Treatment SPF 25 • $19.50 This buttery textured, softening, nourishing and smoothing lip treatment protects your kisser from both UVA and UVB rays and comes in five different shades.
2. Fresh Sugar Sport Treatment Sunscreen SPF 30 • $25 Use this water-resistant, paraben and sulfate free treatment on your lips and around your eyes to keep your skin protected from damaging rays and hydrated with avocado and black currant seed oils.
3. Bare Republic Mineral Lip Balm Sunscreen Mojito SPF 30 • $3.99 A broad spectrum mineral lip balm with SPF 30 and Mojito flavoring? Yes, please! We'll take two.
4. Coola Mineral Liplux SPF 30 Tan Line • $18 This creamy formula made with organic Cupuacu Butter and Mongongo Oil will keep your lips protected while also adding a hint of color.
A LITTLE SOMETHING EXTRA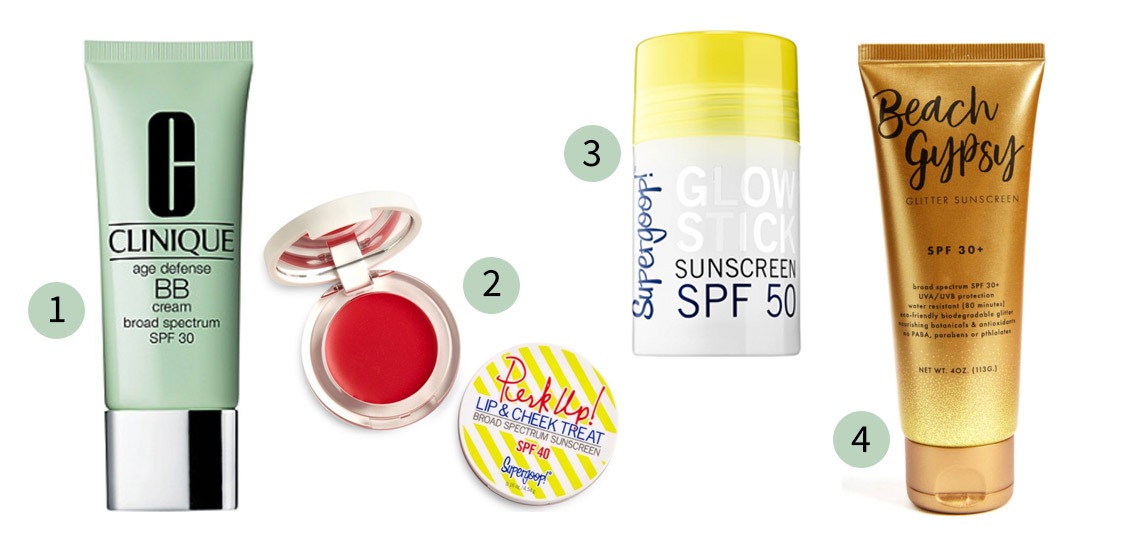 1. Clinique Age Defense BB Cream Broad Spectrum SPF 30 • $39 This BB Cream is a must-have in our makeup bag. It offers natural-looking coverage and protection from both UVB and UVA rays.
2. Supergoop Perk Up Lip & Cheek Treat Broad Spectrum Sunscreen • $22 Pop this SPF 40 tinted lip and cheek balm in your beach bag or everyday purse to add color and protection when you need it on the go.
3. Supergoop Glow Stick Sunscreen SPF 50 • $25 We'll try anything that promises dullness-fighting and glow-boosting SPF protection. Swipe this on your shoulders, the bridge of your nose and cheekbones for some extra oomph.
4. Sunshine & Glitter Beach Gypsy Glitter Sunscreen • $24.95 Headed to a festival? Add a little shimmer (and SPF 30+) to your look with this glitter-infused water-resistant sunscreen.
Looking for more ways to treat your self? Get Your Skin Ready for Spring with These 3 Easy Steps.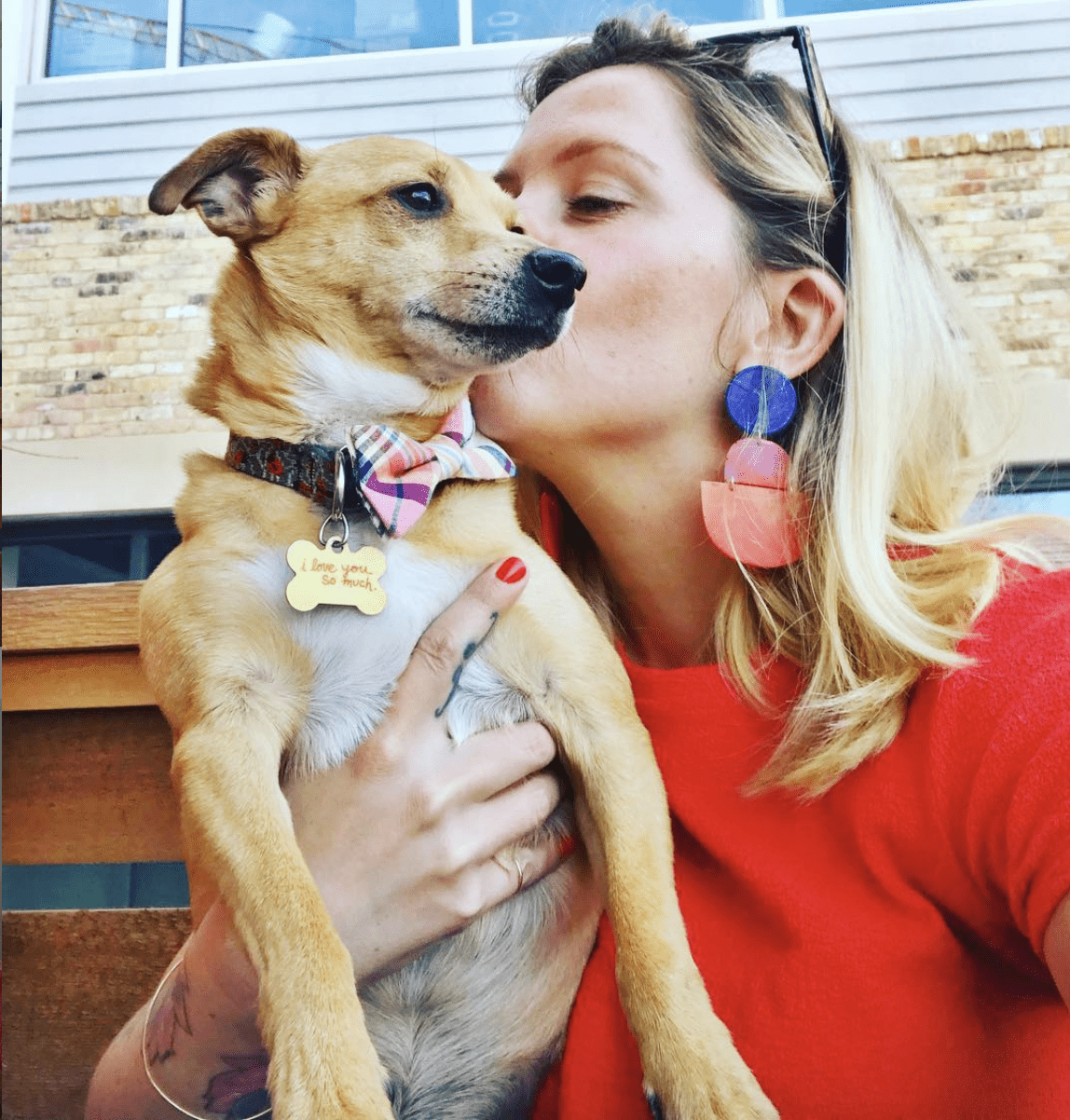 Melody Rose Rowan is the CEO + hostess with the mostess at @CuteStays. When she isn't blogging about style and interior design for her blog MustacheMelrose.com, Melody can be found renovating @MaxineTheAirstream with her husband, Scott, or playing with her two rescue dog-sons, Jake and Finn. Say hi at @mustachemelrose!