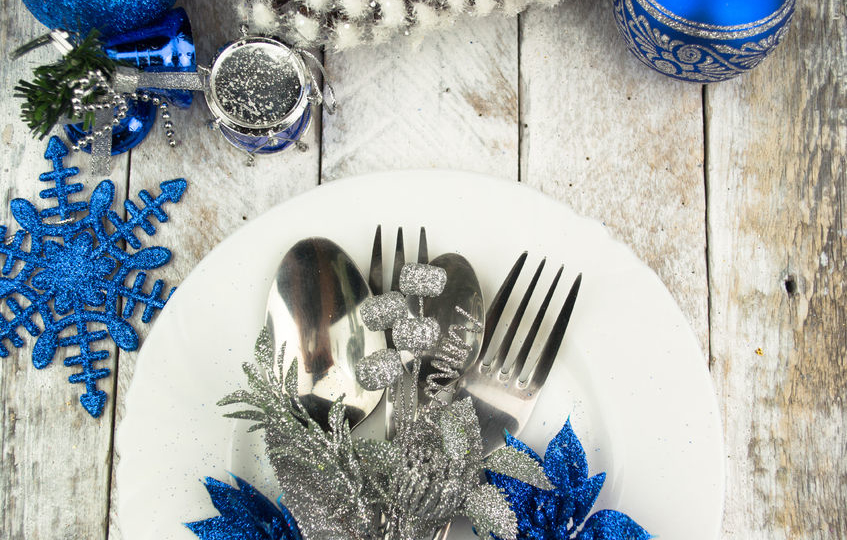 Are you hosting a get-together for friends and/or family for Thanksgiving or Christmas? Gathering everyone around a gorgeous table with sumptuous food makes the heart pitter-patter! Little tricks – from using unexpected colors and hand-written place cards to unique table settings can really help make a table stand out during the holidays and Thanksgiving.
Here are some money saving ideas for dazzling centerpieces and special decorations to inspire you make your holiday table perfectly:
Freshly cut blooms are always magical
You can never go wrong with freshly cut blooms. Fill your tiny tin cups with fresh-cut blooms. Place at every setting in order to bring out a sweet smelling ambience.
Mix patterns
Never be afraid to mix patterns for interest and texture. A happy blend of florals and stripes is an excellent place to start. This table setting idea is affordable and stylish.
Employ the use of charming colors
The maiden step for preparing a table for any occasion is using charming colors. Pick a palette that effectively speaks to you and not just Yuletide tradition. Of great importance to note is that Christmas colors normally clash with many interiors. Consequently, rather than defaulting to green and red, enhance your room's current hues. For instance, you can use a sewn tablecloth, which is effective at sparkling a color theme.
Employ a design theme
Begin with a design theme such as rustic and cozy complete with "long cabin." Follow it through with elements including tablecloth, centerpieces, and napkins. This helps bring out the best in your holiday table.
Utilize natural elements
Natural elements can be amazing additions. You can either use them as centerpieces or tuck them into a nice-looking ribbon fastening the silverware. Natural elements have a way of changing the feel and look of a table.
Pop of Plaid
Classic tartan tablecloths have a way of dressing up a space in a neat and polished way. For whimsical place settings, slide old name cards that are excellently handwritten into slots of vintage sleigh bells. This gives new meaning to 'be there with bells on.'
Use a wood box
A handmade wooden box serves two purposes. Primarily, it creates a focal point in your dining room. Secondly, you can effortlessly use it throughout the upcoming year as table décor.
Create your own winter wonderland
Deck the halls with silver, white, and blue to create your own winter wonderland in the dining room. Details such as white stockings, glittered ornaments, and frosted pinecones complete the beautiful look. Creating a winter wonderland is not hard contrary to what many people think.
Use party poppers coupled with glitter and gold
Utilize a mirror as a stand for your table decorations. This goes miles to incredibly reflect glass vases, metallic ornaments, as well as gold-themed place settings. DIY party poppers can be used instead of place settings. They come in handy in substituting a conventional table runner for felt garland, ornaments, and tissue balls.
Use leaf dishes
Leaf dishes are perfect for enhancing table setting for any occasion. They are available in seventeen different kinds of foliage. Sassafras and lotus are the most common. Brass dishes are always ready for pressing into the service proffering hors d'oeuvres.
The above lovely tablecloth, accent ideas and centerpiece ideas will help you add some sparkle to your Christmas and Thanksgiving table settings and save money in the process.