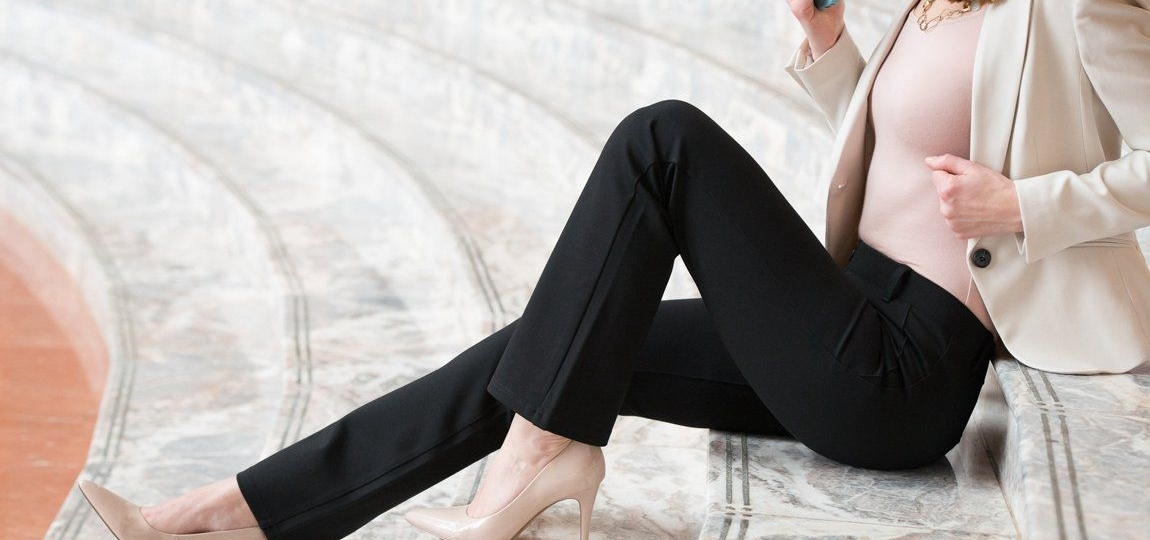 Dress pants in general are not known for having any give, which can make for an uncomfortable workout pant if you walk or bike to work. So, when I came across the Betabrand Dress Pant Yoga Pants, immediately I was intrigued. Dress pants that looked professional, yet claim to be as comfortable as yoga pants? The models on the website looked stylish and sleek-  I wanted in. Dress Pant Yoga Pants sounded perfect for my morning transit, which includes a combination of busing and walking.  As a result, I ordered a pair and anticipated their arrival!
A week or so later, the pants arrived in their fun and funky packaging! The envelope had a drawing of the Betabrand head quarters in San Francisco, with doodles of a  'Lava spewing dragon head' on the roof and a 'rabid animal petting zoo' on the first floor. I slipped the pants out of the packaging and laid them on our boardroom table for the initial inspection.  My first impression? High quality. The material was soft, smooth and had a weight to it.  The seams were in all the right places, with fake pockets and buttons to give the look of real dress pants. I couldn't wait to try them on!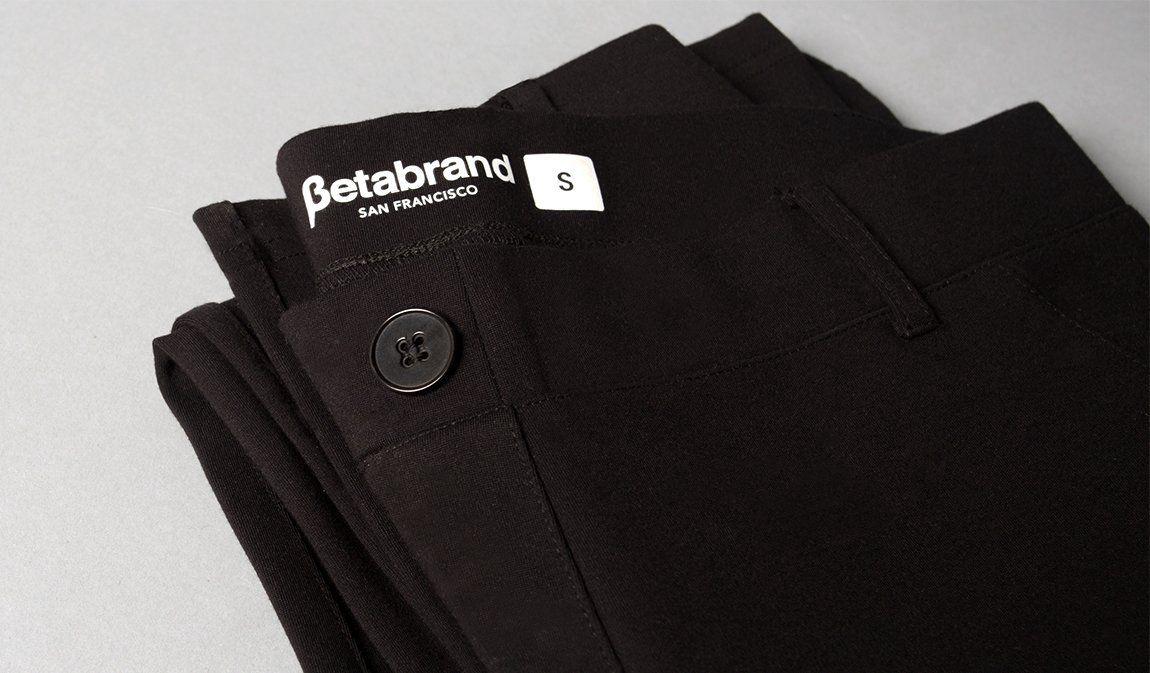 The initial fit was body forming around the waist and thigh area, as a yoga pant should be, and the higher waist is great for slimming everything down. The thickness of the pant, cut of the leg and the belt loops really give the look of being a dress pant. The size guide suggested going up size if your measurements fell in-between sizes, but I opted to go a size down since I was in the middle of a new workout program, and I was happy with the fit.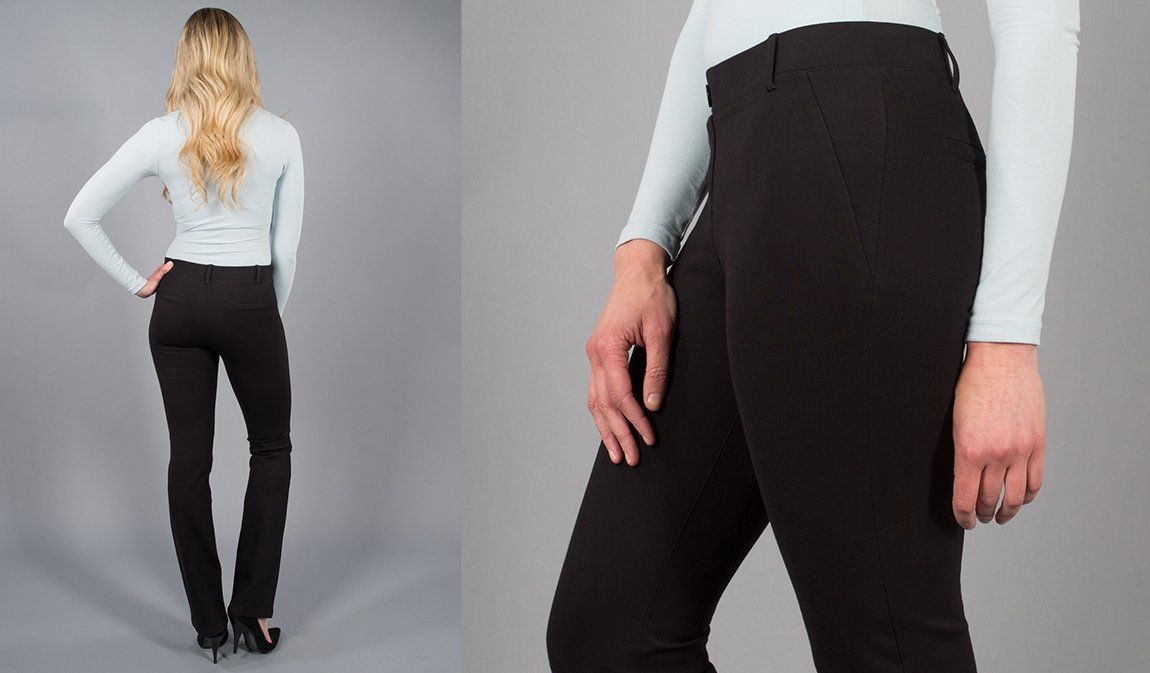 I immediately put them to the test the next morning and completed a quick yoga session before going out the door. After my bus ride, I continued up the hill for my usual 30 minute trek to work.  My old dress pants were a thin material, with no give that were sticky in the summer heat and too breezy against my leg in the winter. The Betabrand pants have a thickness to them that provides a bit of warmth for the cooler weather, yet the breathable material allows for air flow in the warmer weather. All in all, it was a comfortable walk up the hill. At work, I felt put together and stylish. They're great for sitting at my desk, as I have a habit of folding my legs up onto my chair and they have enough give that I don't get cut off in the stomach area when I sit down.
Throughout the next few weeks, the pants paired perfectly with my smart casual tops and worked well with my blazers, too. The straight-leg cut looks great with heels or flats, yet they're narrow enough that I can slip them into my high boots for a more casual look. My favorite part about how they wear? They stay put! I had tried another brand of 'stretch' dress pants in the past and I was continuously pulling them up every time I stood up from my desk. The Betabrand pants stay in place all day – it doesn't matter if i'm up and down from my desk or doing burpees during my workout – no saggy bottom, no falling down. They're great! I am also the type to change out of my dress pants the moment I get home so that I can put on something more comfortable. With these, I wear them all day and I don't want to take them off!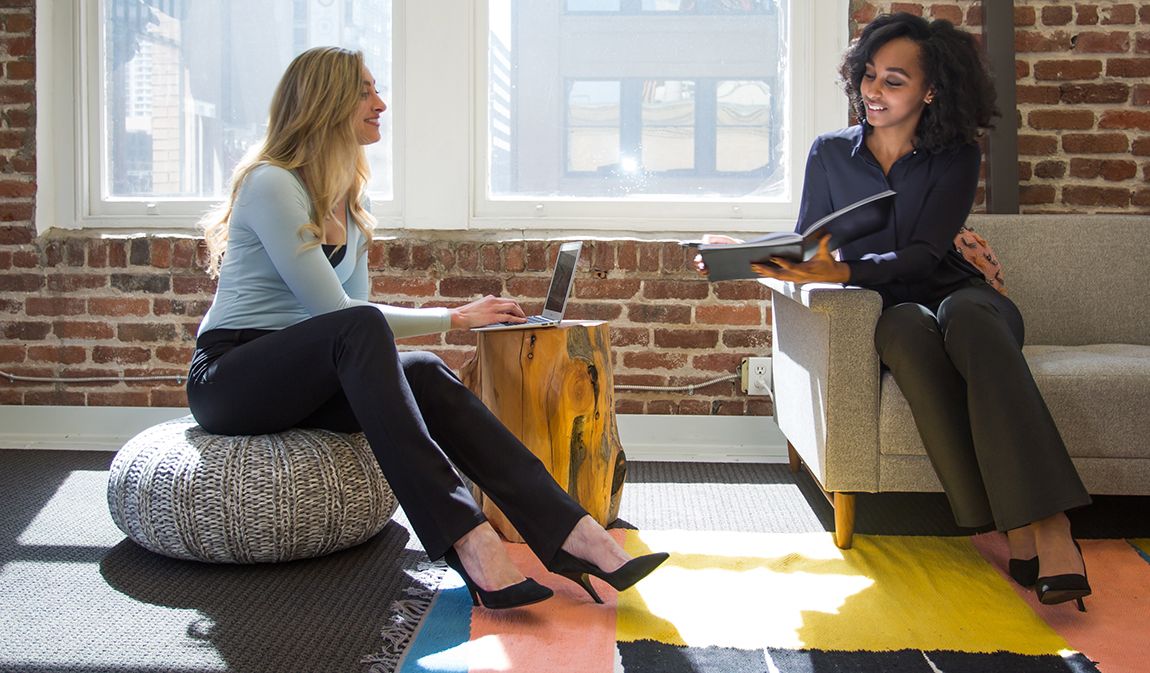 To care for the pants, the washing instructions say to machine wash cold, lay flat to dry or line dry. I had ordered them a bit too long as I was unsure of my pant length, so I washed them in cold water as suggested, but then dried them on high which brought them up about a 1/2 inch (now they're perfect!). If you like the length, stick to the recommended drying instructions and you'll be fine! I now hang them to dry to maintain the quality of the pants and they still look as new as the day I brought them home.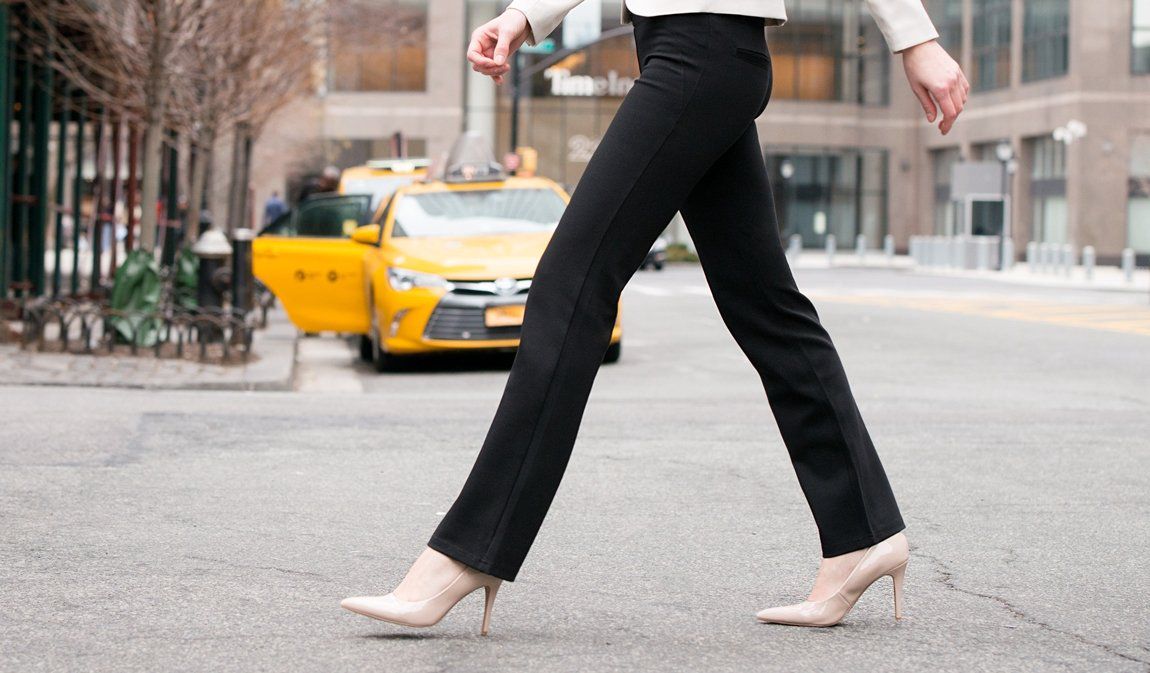 Overall conclusion? Fantastic pants – I've been waiting for pants like these for a long time! My other 'stretchy dress pants' did not wear well; they've since lost their shape and look more like leggings due to the lack of buttons & pockets. The Betabrand dress pant yoga pants hold true to their claims and come in many colors, patterns, and styles, so I look forward to ordering another pair. Treat yourself this Holiday Season with the gift of style and comfort – you'll be happy you did!
Follow Betabrand on Facebook,  Twitter @Betabrand and Instagram @Betabrand_HQ or visit the Betabrand website at: www.betabrand.com
Article courtesy of Amber at Cartageous.com
Summary
Reviewer
Review Date
Reviewed Item
Betabrand Dress Pant Yoga Pants