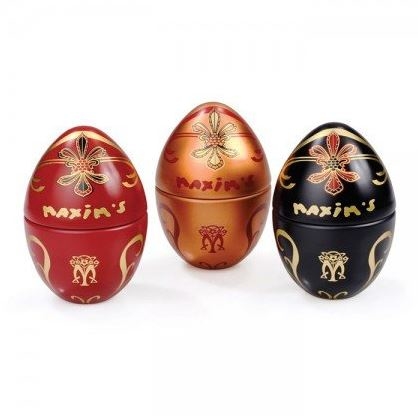 The Easter bunny is just a hop away and although the kids may get excited over the tiny foiled Easter eggs, we feel the adults deserve their very own special treat –  a gourmet Easter bunny or egg! Some have a high price tag, but we all deserve a little luxury sometimes, right? Here are 5 gourmet Easter treats that are sure to satisfy your chocolate cravings this Holiday!
It's certainly a classic –  For over 50 years, Lindt has been the gold standard for chocolate bunnies and now it comes in  a delicious Hazelnut version of your favorite Easter treat!
They may look like your basic foil wrapped chocolate, but these foil wrapped eggs from Godiva are eggstra special for a reason! They come in an assortment of delicious flavors, like:  almond butter in milk chocolate, raspberry ganache in dark chocolate, dark chocolate ganache in dark chocolate, and solid milk chocolate.
How cute is this little guy with his floppy ears? Old Naples Chocolate does an adorable take on the typical chocolate bunny. It's hand poured, handmade daily and comes in milk, dark or white chocolate. It's almost too cute to eat!
Sugar Plum Chocolates presents 13 pieces of handcrafted chocolate truffles in a perfectly festive Easter Egg shaped box! They come in an assortment of flavors, like: Milk, Dark, White, Raspberry, Cappuccino, Tiramisu, Rum, Champagne, Coconut, Chai Tea and more! It's great for gift giving… but you know you want it just for yourself.
Cant' decide on white, milk or dark chocolate? or maybe you can't decide on which pretty egg to buy? Well, now you can have them all, because Maxim's de Paris put their pretty Easter Eggs all together in a gift pack so you can enjoy all three!
Shop for Easter Candy, Chocolates and More at Cartageous.com!