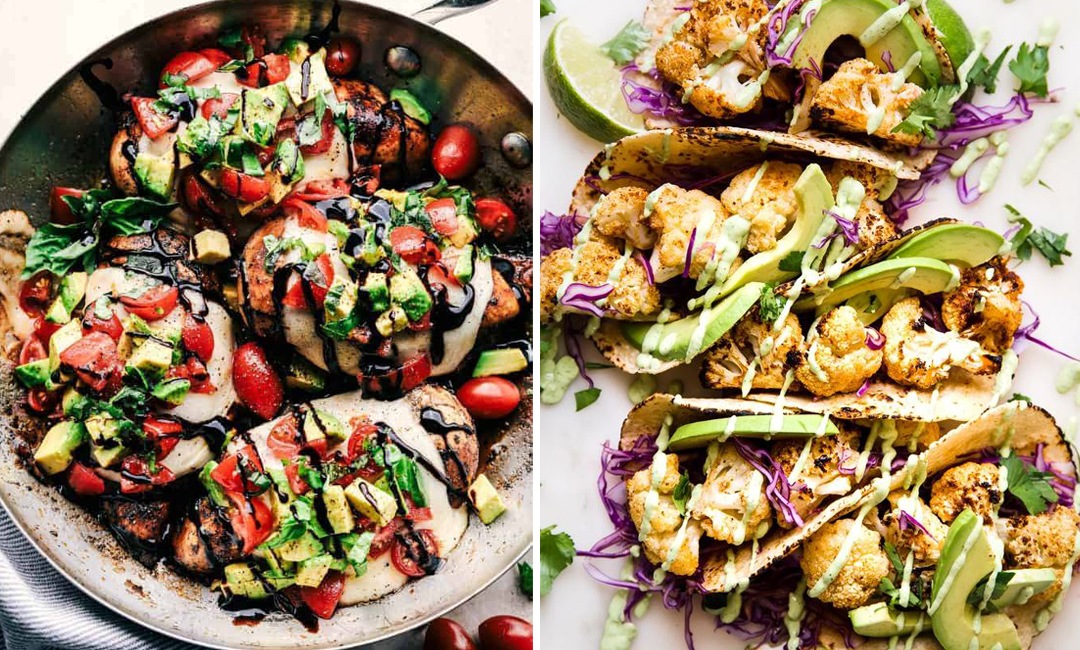 We all may be filling our calendars with all the fun summery stuff, but let's be real: spending a ton of time in front of a hot stove/oven isn't high on our list (unless we're at a barbecue, of course). Thankfully, there are still plenty of healthy dinner recipes out there that don't involve a TON of time sweating it out in the kitchen. Keep reading for some of our favorite must-make dishes that we found on Pinterest!
1. Roasted Cauliflower & Sweet Potato Veggie Shawarma Bowls via Plays Well With Butter
Say it with us: sheet pan recipe. Yep — just press the preheat button, wait a bit, and eat. Oh, and did we mention that it's packed full of our favorite veggies? Try the recipe here!
2. California Avocado Skillet Chicken via The Recipe Critic
Keeping it Keto? You have to try this. The chicken is marinated in honey balsamic and cooked in the skillet to tender and juicy perfection *and* topped with cheese, tomato, and avocado. Check out the recipe here!
3. Easy Roasted Cauliflower Tacos via The Modern Proper
Searching for something new for Taco Tuesday? These roasted cauliflower tacos with tangy avocado cream make for a perfect option. Test drive the recipe here.
We love an easy recipe that's ready to go in under 30 minutes. This Thai basil tofu can even be made vegetarian with just a few easy swaps! Make it tonight using the recipe here.
5. Brown Butter Farro with Mushrooms & Burrata via The Original Dish
Our favorite healthy dinner recipes are the ones that you can just toss together on a whim! You can serve this farro on its own or as a side — completely up to you! Bookmark this easy recipe here!
Sometimes it's just so hot outside that you don't wanna touch the stove. And for those kinds of nights, you'll need a cool, refreshing recipe like this one! With pickled shallots, radishes, pumpkin seeds, avocado, and basil tossed in a flavorful tomato vinaigrette, we think you'll be a big fan. Peep the recipe here.
7. Vegan Creamy Polenta and Red Wine Mushrooms via Rabbit And Wolves
For those times when you're bored with pasta (we know, it sounds crazy but it DOES happen), opt for polenta! This creamy recipe is perfect for those nights where you just wanna crank the air conditioning and veg out on the sofa.
8. Summer Grilled Corn Salad via Simply Delicious
Fresh summer corn is just the best. And this smoky grilled salad is good enough to stand alone as the main event or even as a side! Save the recipe and make it before summer ends!
Considering enjoying your dinner al fresco? You'll need some cute outdoor furniture for that! Check out our very favorite picks from Target.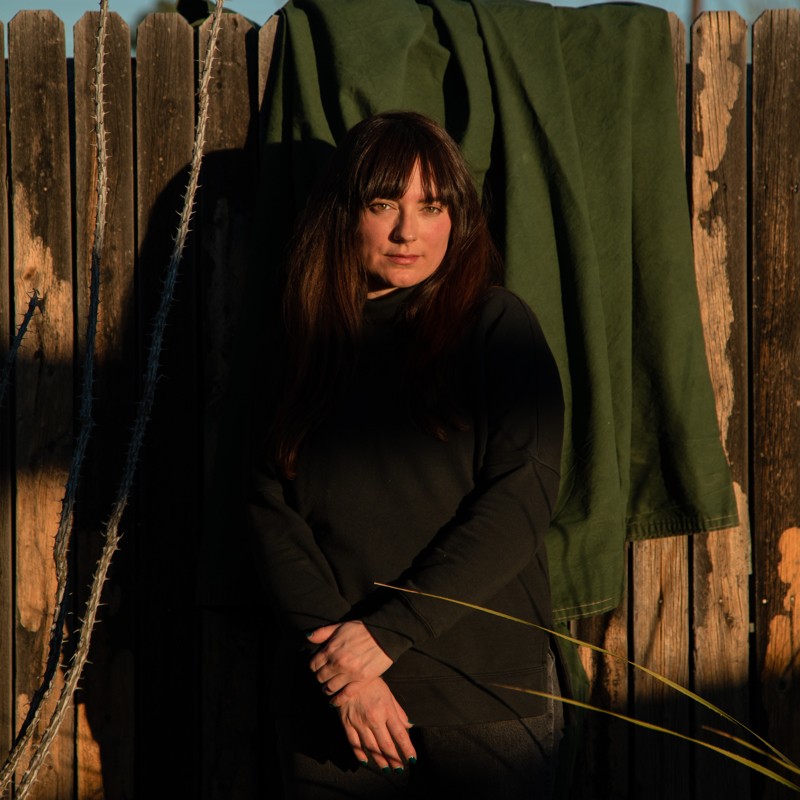 Allison Wheeler is a writer, Bruce Springsteen enthusiast, and sixth-generation Texan living in Denton, Texas.