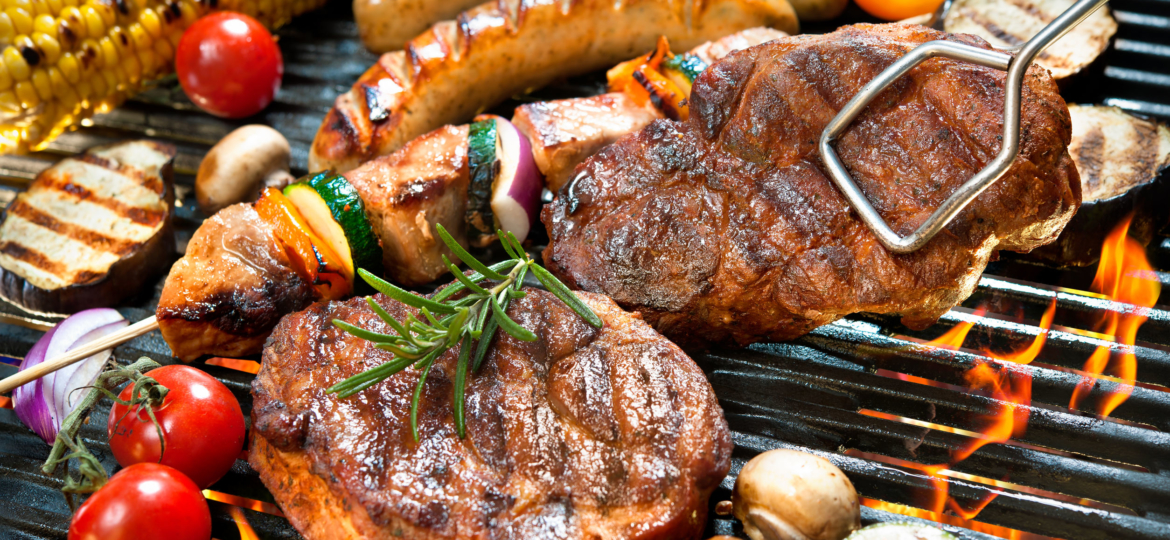 Summer isn't here yet, but that doesn't mean you can't put on your Spring jacket and fire up the grill early! It's time to get some fresh air and bring the cooking outside. There are lots of different BBQ recipes out there to try, and thanks to the internet you can easily provide exciting dishes for all of your guests, whether they're enthusiastic burger fans or vegetarians. Here are a few BBQ ideas to get you started:
Burger Recipes
A classic burger is always delicious, but if you want to try something new, Spicy Chipotle turkey burgers can be more exciting (and a more health conscious) choice. Feta Cheese turkey burgers can create a very different flavor, by simply substituting just a few simple ingredients. Portobello Mushroom burgers can offer a very meaty texture for vegetarian guests. Salmon rosemary burgers make a great combination for fish lovers.
To make Spicy Chipotle turkey burgers, you will need: one pound of ground turkey, one half-cup of chopped onion, two tablespoons of cilantro, one teaspoon each of garlic powder, seasoned salt,  onion powder, one chipotle chile in abodo sauce, four slices of mozzarella cheese, and four buns. All of the ingredients except for the cheese and the buns need to be mixed together and used to form four patties. These patties can then be placed on the grill, and served with the cheese and the buns when ready.
Chicken Recipes
Grilling chicken has become more popular in recent years, especially among the more health conscious. You may want to try marinated chicken kabobs in order to shake things up a little and give guests a finger food option.  Southern BBQ chicken is always a favorite, and if you want to spice it up, consider trying Tandoori chicken thighs.
Even simple marination is delicious. Lots of people will love a basic grilled lemon chicken. This chicken is made after being marinated in: one-third of a cup of lemon juice, one tablespoon of Dijon mustard, one-quarter teaspoon of ground black pepper, one quarter cup of olive oil, two tablespoons of chopped bell pepper, two large cloves of chopped garlic, and one half teaspoon of salt. This is enough for four chicken breasts.
Seafood Recipes
Shrimp tacos are starting to show up in restaurants everywhere as an alternative to the more traditional beef tacos.  Firecracker grilled salmon is a great option to for those who like a tangy flavor with a bit of heat. If steaks are already on the menu,  surprise guests with Surf and Turf by adding grilled lobster tails to the menu.
These lobster tails can be grilled after being brushed with the following marinade: one tablespoon of lemon juice, one teaspoon each of paprika and salt, one half-cup of olive oil, and one eighth a teaspoon each of garlic powder and white pepper. This is enough marinade for two delicious lobster tails.
Vegetable Recipes
Vegans and vegetarians do not have to feel left out at any barbecue. Grilling has a tendency to make vegetables come alive in a new way. Try grilled asparagus, bell peppers, and mushrooms by adding pepper, salt and oil. Vegetarians may love grilled garlic Parmesan zucchini, which has a way of tasting slightly cheesy and very rich. Almost everyone can appreciate grilled corn on the cob, which can be soaked first in a combination of: one half-cup of butter, one half-cup of white sugar, one half-cup of salt, and some extra salt and pepper. This is enough for eight ears of corn.
Click on the links provided to see the wide range of BBQs and BBQ accessories we have to offer at Cartageous.com! You can also check out Canadian Tire's BBQ accessories & toolkits!