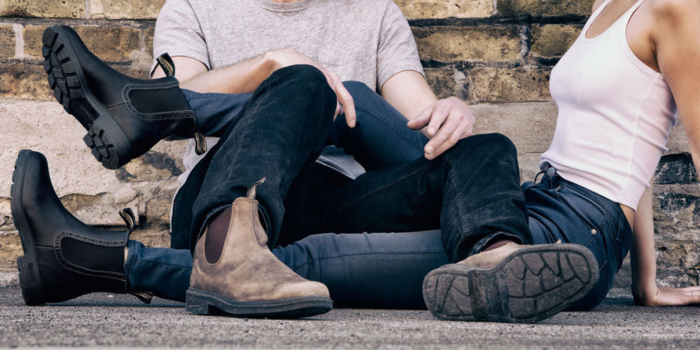 Some of the most stylish and beautiful boots on the market right now are made from a company called Blundstone. If you're searching for an amazing pair of boots that also work for the springtime as great rain boots that will keep your feet comfortable and dry, Blundstones will be a fantastic match. They are ultra trendy and in-demand because of their unique and chic design, but have a classic sensibility to them that won't look strange or out of place when trends change.
Blundstone boots are an incredibly comfortable, durably crafted, and fashionable footwear that was created by John and Eliza Blundstone back in the 1800's in Tasmania, Australia.
The company's signature line of ankle-length boots are unique because of their laceless design and elastic sided adornment that keeps them tight fitting and pleasantly cozy. They come in all sorts of colors, textures, and designs to match the wardrobe of your choosing, or the particular activity you're engaged in.
Whether you purchase these fashionable boots for work, hiking, hunting and fishing, or simply as a desired in-vogue stylistic expression, Blundstone boots are incredibly durable and provide superior comfort for the feet. Many boots on the market offer great support and will last a long time, but these boots won't give you foot problems or an achy back.
The science behind the ultra-comfortable feel is that Blundstone uses Poron XRD material in their boots, which is a patented microcellular material that provides a incredible impact and shock absorbent underfoot surface. The company also provides a two year manufacturer's warranty and a 30 day comfort guarantee.
Spring fashion clothes and shoes are certainly in-demand this time of year, and choosing a wardrobe that is in-style and trendy can be a fun a exciting activity. Matching up the trends with the proper functionality is key if you want to stay warm, dry, and cozy. Blundstones are unique in that they can work for you year-round. The boots are rugged enough to withstand rain and somewhat harsh conditions, but light-weight, breathable, and modish enough to work with outfits during the warmer summer months.
Blundstone boots are available in dozens of unique styles and colors for adults, but also come in children's sizes and will keep your child's feet safe and comfortable in any weather conditions presented year-round. Kids tend to put a vicious beating on most common types of shoes, but Blundstones are renowned for the long last soles and slip-resistant material.
Besides the most common and popular Blundstone design that features a laceless elastic sided composition, they also offer a highly durable and rugged work boot that is lace-up and provides extra toe protection. These are perfect boots for construction work sites and any type of occupation where your feet could be potentially at risk.
Click on the link provided to see the Blundstone boots we have to offer!