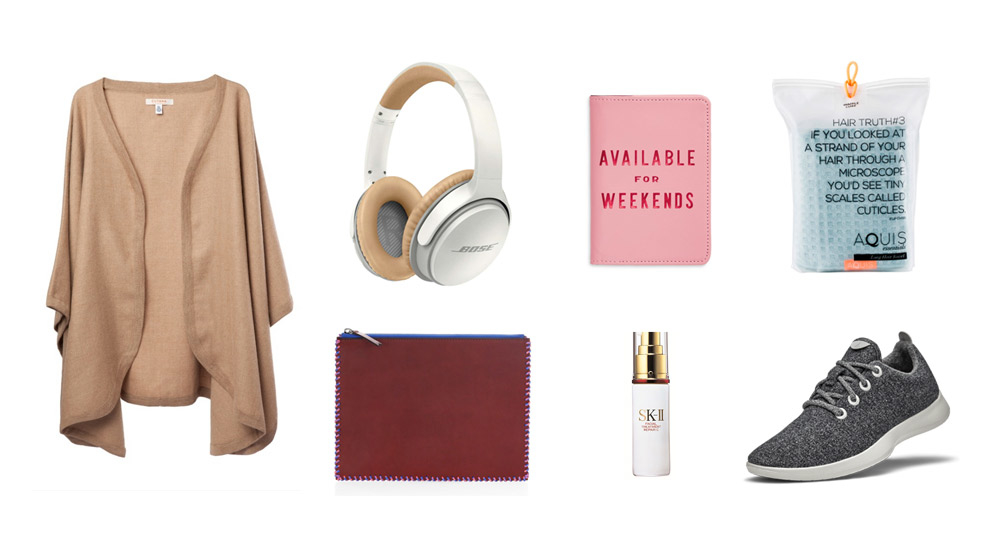 Disclosure – The below contains affiliate links, which means we may receive a commission if you click on a link. We hope you like our picks!
Whether you're sitting in First Class, Coach or the very back of the plane in that last seat that won't recline (grrr), flying—and traveling in general—can be stressful. Comfort is key. Luckily, there are a ton of travel products, gear and accessories that make it totally doable—and dare we say—luxurious. We asked our most trusted and wanderlust-infected social media friends to share their favorite don't-leave-the-house-without-em travel essentials. Safe travels!
You may only need one pair of shoes the next time you travel. These stylish kicks are made from New Zealand superfine merino wool. They are lightweight, breathable and durable so you can comfortably tromp around in them on your next adventure. Bonus: they're super easy to pull on and off while getting through security.

If you're looking for a dressier option with a bit more heel, trust us when we say Blondos are the way to go. Though the brand offers a ton of other waterproof(!) styles, the Liam ankle booties are our current favorites. (Okay, and the Villas and the Ellies and the Analise's) These boots are unbelievably comfortable so you can wear them every day of your trip, but they're also completely waterproof. Yep, these babies kept our feet stylishly dry through a wet trip to Canada and they're still looking fab. Crazy, eh?

Our friend swears by this chic cape that can double as a travel blanket. "It literally goes everywhere I go." It's made in Peru from super soft, lightweight and warm 100% baby alpaca wool—meaning it's also hypoallergenic, sustainable and eco- and animal-friendly. It comes in black, grey and camel.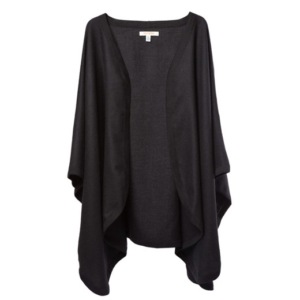 If you have a long flight ahead of you and want to slip into something more comfortable—but not feel like a bum—pack these luxe sweatpants in your carryon and switch into them as soon as the seatbelt sign goes off. They come in classic black, heather grey and burgundy.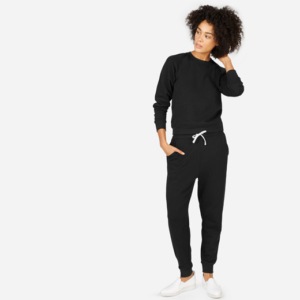 What? It folds? Yes. And it's super lightweight. Wear it on the flight and securely stash a small laptop, book, toiletries and whatever else in the six interior pockets. Or, roll it up and stick it in your carryon in case you need an extra bag on the trip. Surprise—there's also a hidden detachable pouch inside.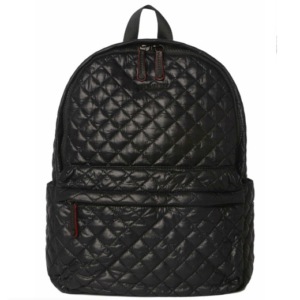 You can use this easy-to-wash tote as your purse or carryon on your next trip. It has enough space to fit a laptop, light jacket, journal and iPad. It's made of 100% Italian leather and looks sleek enough to wear to the office or drinks after work.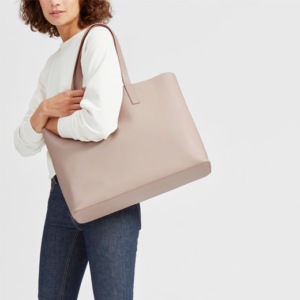 Know exactly where your iPad is in your bag by giving it a home in this top zipper pouch. It comes in black, but we love the Bordeaux and blue color combo.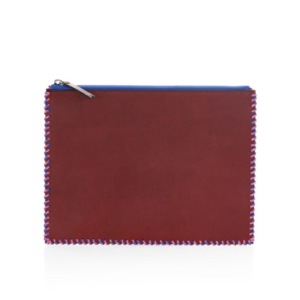 Make sure you can also find your passport while juggling items at the airport. This bright pink Ban.do passport holder will do the trick! It has three interior slots for credit cards so you can keep all your necessities in one place and maybe even use it as a wallet while you're out and about at your destination.
 
We never noticed HOW LOUD airplanes were until we wrapped these soft, cushioned headphones around our ears, then took them off. They don't claim to be noise canceling, but you could have fooled us! You'd need to physically nudge us if you were trying to get our attention on a flight. The sound quality is excellent and they're Bluetooth enabled so there's no need to mess around with chords.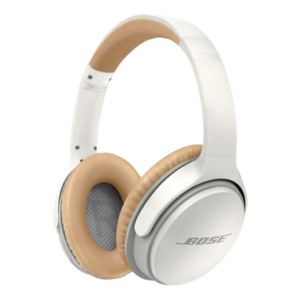 "Smaller than a deck of cards and as light as a baseball." Keep your phone, iPad, headphones and other travel gear juiced up with this tiny and lightweight charger. It works really quickly (and quietly) so you won't have to be chained to a wall while checking emails at the airport.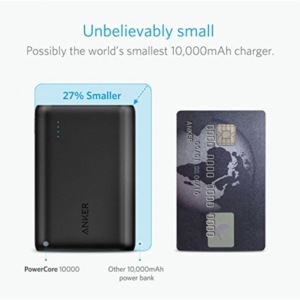 This super efficient and powerful, yet safe and lightweight power strip has multiple uses. It comes with a surge protector, two extra outlets, 4 USB charging ports and 3 different international travel plug adapters so you can charge your phone in more than 150 countries.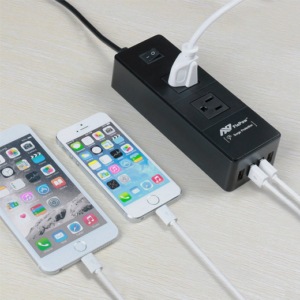 Keep warm on cool flights with this lightweight, breathable and moisture-wicking blanket. According to the rave reviews on Amazon, it's also super compactable—it rolls into a mesh travel bag that's slightly larger than a can of soda.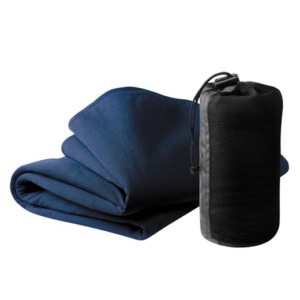 Don't lug a huge neck pillow around on your trip—you'll probably forget it at the hotel anyway. This inflatable neck pillow allows you to safely get some winks on a flight. The odd, ergonomic shape allows you to move it around in different positions until you have the perfect fit, depending on which direction your head naturally leans. Just blow air into it a couple times and voila—you've got neck support! When you land, let the air out and fold it down into its own little pocket.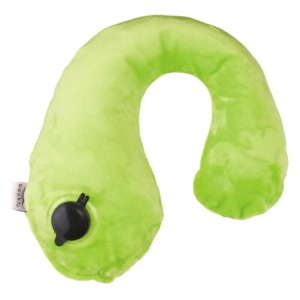 Catch some zzzzzzz's in this pure mulberry silk sleep mask even if your seatmate is a big fan of watching the sunrise. (Psst… you should check out this Kickstarter too.)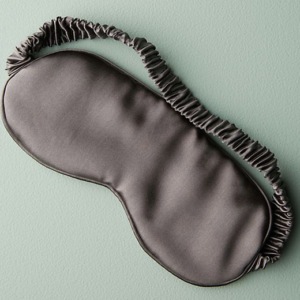 Give those peanuts and pretzels a break already. Toss some jerky into the mix to ward off hangry pangs. The Jillian Michaels-approved Krave Beef Jerky is gluten-free, low fat, high protein and low calorie. It comes in delicious flavors like Sweet Chipotle, Chili Lime and Pink Peppercorn.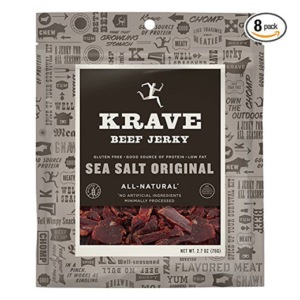 Keep hydrated on flights with a water bottle that has an impressive following on Instagram. The circular screw top makes it easy to carry and the glass is protected by a colorful silicone sleeve.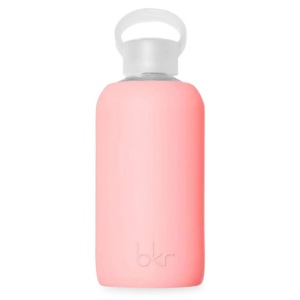 Girrrrl, you look good. There's something magical about this brush. Yes, it detangles, but it also makes your hair look smooth and well-coiffed. Give it a go before you step off the plane for a surprisingly polished look, and keep it in your bag to keep your locks looking good even on windy days.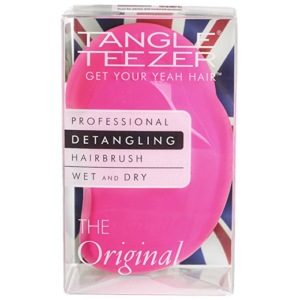 We've tried a billion dry shampoos and Batiste is our favorite. Thankfully they make a travel size option so you can have your hair looking so fresh and so clean on the go! The shampoos come in a variety of scents and they even make one especially for brunettes. (That's really nice of them.)

There's no need to leave your seat to wash your face—gently wash the day away with these no-rinsing-required wipes. With just a swipe or two, they easily remove dirt and waterproof makeup while also conditioning your skin. The top reseals to keep the other sheets fresh.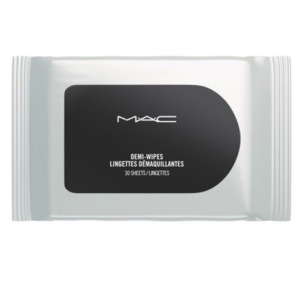 You may want to leave your seat to use these all-over wipes. The resealable pack comes with 30 large quick drying, cleansing and deodorizing cloths. They're made with chamomile, calendula extract, vitamin E and aloe so they're also soothing and hydrating.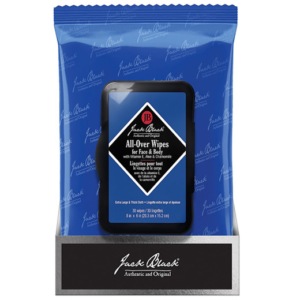 This Hyaluronic acid packed gel is a game-changer. It will keep your face from drying out on the plane, and it also promises 24-hour deep moisturize and tighter and smoother skin with fewer wrinkles and less roughness. Sold! The bottle is on the small size for the price, but don't be fooled—one pump goes a long way. Use clean fingertips to dot and blend a small amount evenly over your face.
The skin under your eyes needs extra love, especially when you're up in the air. Use this 2-in-1 cooling mask to turn tired, dehydrated and drab eyes into GOOD-MORNING-I'VE-HAD-30-CUPS-OF-COFFEE eyes. Dab a little on during overnight flights, or use it as a 10-minute quick fix for a boost of brightness.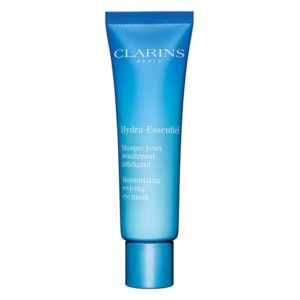 Keep a tube of this shea butter lip balm handy to instantly protect and moisturize dry lips. SPF 30 shields your lips from harmful UV rays while antioxidants like vitamins E and C protect against free radicals in sunlight, cigarette smoke, smog and other airborne grime. Spearmint leaf oil helps to freshen breath and cooling menthol will chill out stressed-out lips.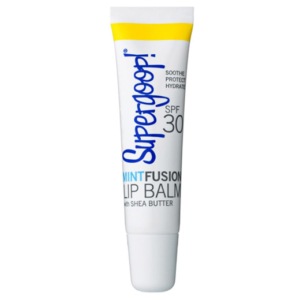 Our jet-setting friend received these 100% natural, Vegan and travel-friendly therapeutic essential oil roll-ons on her birthday and now she won't leave the house without them. This cute kit contains blends to fight off stress, coughs, pains and upset tummies.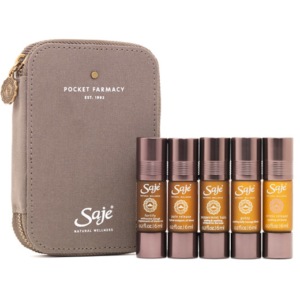 Don't risk spritzing your neighbor while in the air. Roll-on perfumes are carryon-friendly and offer the perfect amount of scent for your wrists without filling the cabin with your favorite perfume. We've been a fan of Stella McCartney's original scent for years.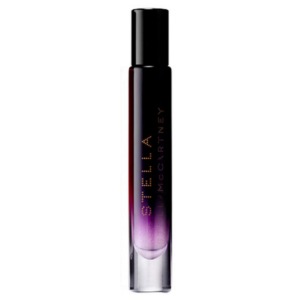 Sticking your hand into a purse full of conditioner might win you money on a prank game show, but it's not a fun activity to do on an airplane. Squeeze your favorite products into these leak-free travel tubes so you don't have to check a bag or end up with a well-conditioned phone. They're 100% BPA-free and TSA-approved.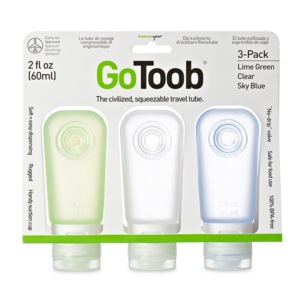 Keep your yoga practice going while on the road and never use your phone as an alarm clock again. Download the Yoga Wake Up app to have top yoga instructors guide you through your choice of routines that will either calmly wake you up with gentle stretches while still in bed or get you up and at 'em with energizing moves.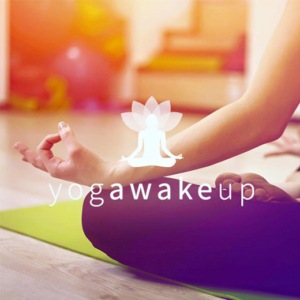 This machine washable hair accessory fights frizz and long blow-drying times. It's made with Aquitex, a lightweight material that helps to dry your hair quickly and with less damage than a regular towel. Squeeze out any excess water from your hair after a shower, then flip your head over and wrap it around to quickly take your hair from soaking wet to damp.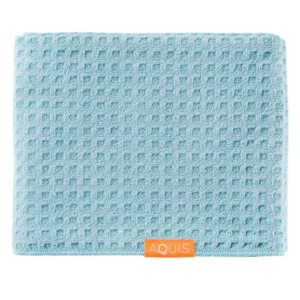 Packing a steamer on a trip isn't the most lightweight or minimalistic way to travel, but if you're headed for a girl's weekend in Vegas, it will make your hotel room the most popular spot for a Steam Your Dress Cocktail Hour before the night takes off.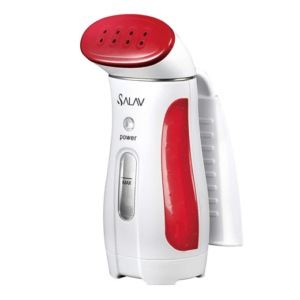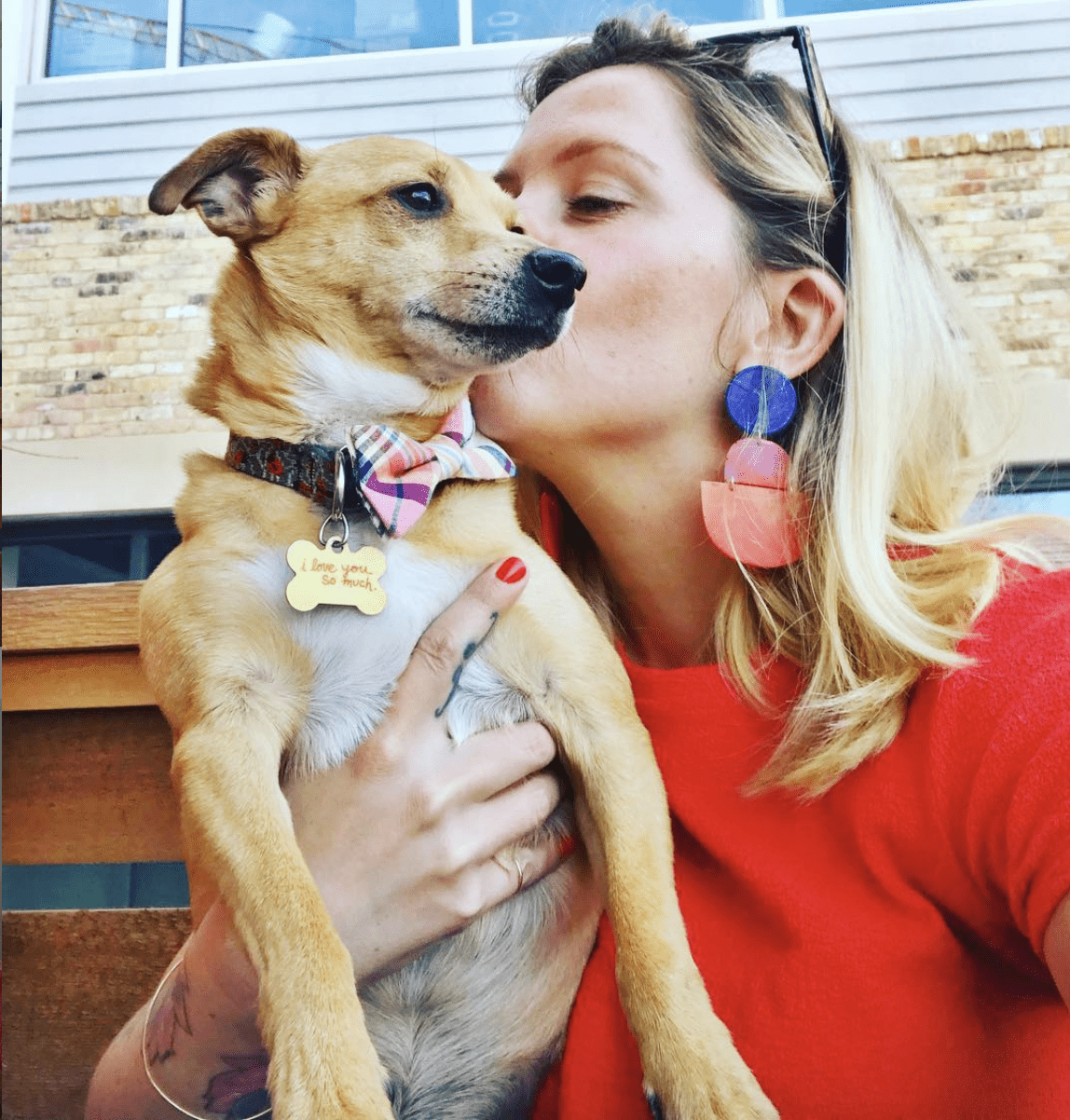 Melody Rose Rowan is the CEO + hostess with the mostess at @CuteStays. When she isn't blogging about style and interior design for her blog MustacheMelrose.com, Melody can be found renovating @MaxineTheAirstream with her husband, Scott, or playing with her two rescue dog-sons, Jake and Finn. Say hi at @mustachemelrose!