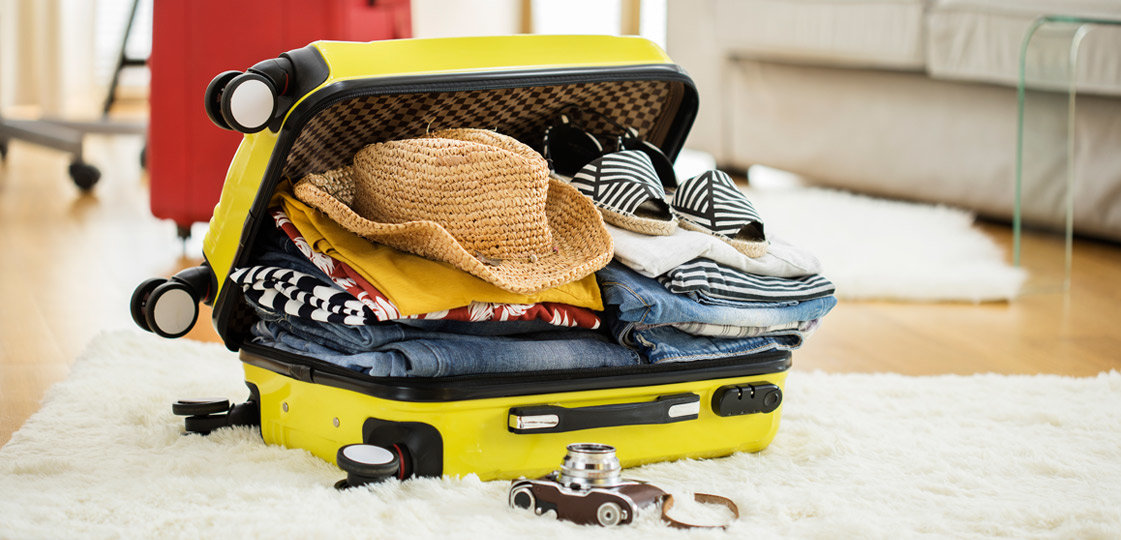 Looking for a travel packing list to take you from here to there? We've got your back. Download our Printable Vacation Packing List and prepare for take-off. But first, we've compiled our top advice for travel packing. Read on to discover what vacation items are essential (and what you really don't need!) and check out our tips on packing like a pro.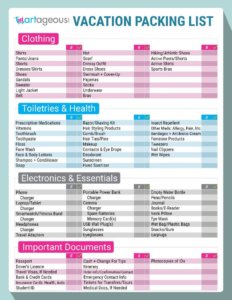 Need something more specific for your vacay? Check out our Beach Vacation Packing List for your island getaways or beach-bound road trips.
What Should I Pack For Vacation?
But hold up, what should you pack? What do you really need? What are you going to WEAR?!
Easy tiger, we're here for you. There are three main questions to ask yourself when you're creating your vacation packing checklist:
Where are you going?

How long will you be there?

Are there any specific activities you plan on doing?
Where You're Going on Vacation Determines What You Need to Pack
First, sit down and do a Google search of your destination. What's the weather like? Is it hot and tropical (our fave) or cool and windy? Do you have to pack for rain? Snow? Your needs while touring Paris are going to be very different than lying on the beach in Cancun.
The weather is the biggest factor. You don't want to be stuck unprepared for blistering heat or freezing hail. Be sure to check out local customs at your destinations too. If you're traveling to religious sites, you may need to cover up more than normal – even if it's hot! Also, some cities, especially in Europe, dress a little more upscale than you might be used to. It's fine to look like a tourist at tourist sites, but sometimes you'll want to blend in with the locals while wandering the streets. If you're going somewhere rural, you'll need a totally different wardrobe – lots of long socks and extra bug spray.
How Long You're on Vacation Determines How Much You Need To Pack
There's a big difference between packing for a weekend and packing for a two-week cruise. Weekend trips are easy – pack at least one outfit per day, any essential toiletries and medications, and bon voyage! You'll be home in three days, so for most things, if you forget it, it's not the end of the world. Just make sure you have what you need for planned activities (and always pack a swimsuit!)
If you're going to be gone for more than ten days or so, you should really plan on doing laundry. It's worth it to not have to lug half your wardrobe through the airport and in and out of hotels. Most hotels offer some sort of laundry service, or you can find a local fluff-and-fold, or even hit up a nearby laundromat if you really want to save the money.
For four to ten-day vacations, you'll need to be strategic. You can probably get away without doing any laundry if you pack carefully. You'll need at least one outfit per day, and at least one swimsuit (two if you're going to a tropical resort). You'll also want to have one dressy outfit for going out for dinner at a nice restaurant. If you pack something simple, like a little black dress, you can swap out accessories to make it into several outfits.
Plan Ahead for Weddings, Safaris and Other Special Activities
This seems obvious, but if you're going to be doing a specific activity, you'll need appropriate gear for that activity. But travel (and life!) can sometimes be hectic, and it's all too easy to remember the evening gown but forget the heels. If you're going on a safari, you'll need long pants and insect repellent. Going to a waterpark? Make sure you have flip flops and lots of sunscreen.
So, sit down and take a good look at your itinerary. Then print out our fancy Vacation Packing List and write down everything you'll need for specific activities on the back. Ahem, feel free to do it right now. We'll wait… Back already? Okay, now that you've written it all down, you should be ready to start gathering your stuff and start packing!
What NOT to Pack For Vacation
You want to be prepared, but you also don't want to bring your entire house with you. Anything that you're not sure you need, but is easy to get at your vacation destination (like extra sunscreen, lip balm or snacks), is an item to leave behind. Some things you don't need at all – travel alarms are a thing of the past since your phone works just as well (even on airplane mode). Most of the time you can even leave your laptop behind. A tablet or phone works just fine for streaming video and checking emails, so ditch the extra weight!
How To Pack For Vacation
Okay, so you have an idea of what you're going to wear on vacation. That's the hard part, we promise! Here are your next steps for pain-free packing.
Make A (Packing) List and Check It Twice
Remember when we had you write down everything you'll need for specific activities? We can't recommend it enough. Making a vacation packing list ahead of time means you won't forget anything during the rush to pack and make it to your flight on time. It will also help you enjoy yourself more by stressing out less.
Our Vacation Packing List is designed to be printed out and used. We've included all of the basic items you'll need on a normal vacation and have included space to add your own items in each section.
Get Everything Together and Get Organized
Don't try to get your stuff together and pack at the same time. You'll pack more efficiently, and will be less likely to forget anything if you neatly lay out everything you need next to your suitcase before you actually pack anything. With your things out in front of you, go through your packing checklist, section-by-section, and make sure everything is there.
Pack Your Carry-On Efficiently
Next step is to pack your carry-on:
Make sure any liquids you take on the plane are under 3.4 ounces and stored in a one quart-sized clear bag. View the full TSA liquid rules here.
Keep anything you need to get from your front door, through airport security and to your hotel room organized together and easily accessible. This means your ID, passport, visas, travel transfers and directions to the hotel.
Pack any items you'll want to be comfortable on the plane, like your headphones, tablet and light sweater in one also easily accessible section of your carry-on. If you're taking a laptop, be sure you can reach it easily – you'll need to pull it out to pass TSA screening.
Don't forget to pack a change of clothes! You could be forced into gate-checking your carry-on if the overhead bins fill up, so be prepared for that. It's unlikely that your bag will get lost in transit, but better safe than sorry – you'll be a lot happier if you can keep traveling in fresh clothes while you wait for your bag to arrive.
If you're headed to the beach, pack your bathing suit, cover-up and flip flops. You don't want to be stuck in the sand without your swim attire!
The TSA has some other great travel tips on their website (no, really!).
How To Pack Your Suitcase Like a Pro
Now it's time to pack your suitcase:
Heavy items first, then get rolling! Anything heavy, like shoes or larger liquids, should go close to the wheels of your suitcase. Not only will this make your bag easier to roll, it will be a lot less likely to tip over on you!
To maximize space and help your clothes stay wrinkle-free, consider rolling your clothes instead of folding them. Here's how to do it: lie your clothes out flat on top of each other. Start with the items that are most likely to wrinkle – if they're on the bottom of the stack, they'll be on the outside of the roll and less wrinkled. Be sure to smooth out each item as it's stacked, and fold in any sleeves. Then, starting at one end, roll the clothes together tightly. Alternatively, you can roll each clothing item individually – they'll still take up less space than folding, but will be easier to access.
Stuffing your socks inside your shoes is another great way to save space.
Go the extra mile and put shoes in plastic bags or dedicated shoe bags to keep them from messing up your clothes.
Vacation Packing List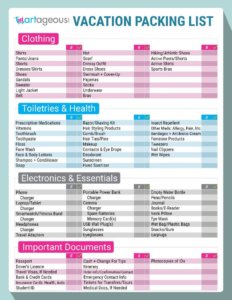 Make sure you don't forget the following! These are our top items to take.
Clothing
Swimsuit and Cover-Up – Even in the winter, you might hit up a hot spring or the heated hotel pool!
Flip flops – Not just for beaches—these keep your feet clean in the hotel too.
Dressy Outfit
Dress Shoes
Active Clothes: Make sure you're prepared to take advantage of nature or the hotel gym.

Hiking/Athletic Shoes
Pants, Shorts
Athletic Shirts, Layers
Sports Bras
Toiletries & Health
Prescription Medications – We recommend taking these in their original containers, especially if it's a controlled substance.
Vitamins
Contacts & Eye Drops
Sunscreen
Hand Sanitizer
Insect Repellant – This is extra important if you're going somewhere tropical.
Feminine Products
Bandages and Antibiotic Cream – It's great to have these with you, for the inevitable small-but-annoying cuts or scrapes.
Tweezers – Good for so many things!
Nail Clippers
Non-Prescription Medications – Painkillers, allergy meds, indigestion relief, etc. You can often pick these up at your destination, but sometimes the doses and labeling are very different. Plus, if you're not feeling well in the middle of the night, you might not want to run out to the store or even down to the hotel front desk.
Electronics & Essentials
Chargers for EVERYTHING – Phone, tablet, charger, Bluetooth headphones – all of these need to charge up. Check to see if any of them take the same charger, and just take one of that type.
Portable Power Bank: Portable chargers can be heavy, but we can't recommend them enough. They're especially important if your phone is also your camera. You'll never worry about running out of battery on your phone again.
USB Wall Plug(s) – Look into getting a travel power strip, which can charge a couple USB cords and a couple regular plugs from one outlet.
Travel Adaptors – Check whether the country you're traveling to has a different voltage than your home, so you don't fry any of your devices!
Pens – You'll need pens for customs and immigration forms, taking notes, marking maps, signing receipts, and of course, flying through that crossword puzzle. Take at least two – they don't take up much space and get lost incredibly fast.
Empty Water Bottle – More and more airports are adding dedicated water bottle filling stations! Save some cash and be eco-friendly by investing in a durable water bottle to take traveling with you.
Wet Bag/Plastic Bags – You'll be glad for these when your swimsuit is still damp, or your socks end up smellier than planned.
Earplugs – Consider special airplane earplugs if you're sensitive to pressure changes. They're also essential for protecting your hearing (and sanity) in noisy locations.
IDs & Important Documents
Passport – Make sure you have your passport before you lock your front door. Same goes for your phone and wallet.
Insurance Cards for Health and Auto – You hopefully won't need them, but they're good to have.
Student ID – If you're a student, make sure to bring your ID to score some sweet discounts.
Cash + Change for Tips
Emergency Contact Info
Tickets for Transfers, Tours, Other Planned Activities
Medical Documents, If Needed – If you have a doctor's note, bring it along, just in case.
Photocopies of IDs – If something happens, a photocopy of your passport will make your life so much easier.
Headed to the sand? Check out these 13 Cute Beach Bags from Asos.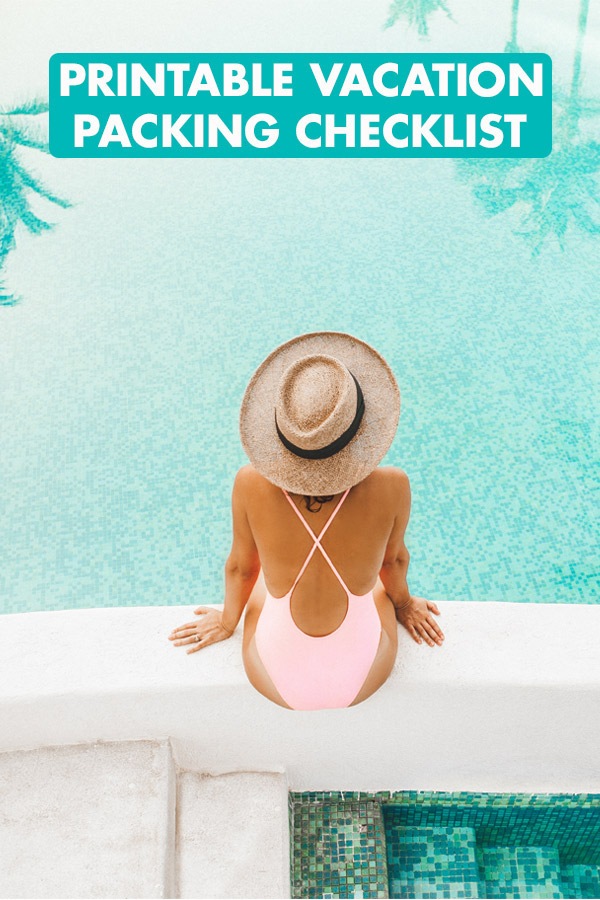 Recent travel blog posts: